20 Mar 2014
A Happy Anniversary: Pilar's 20 Years at Cardenas
Published in News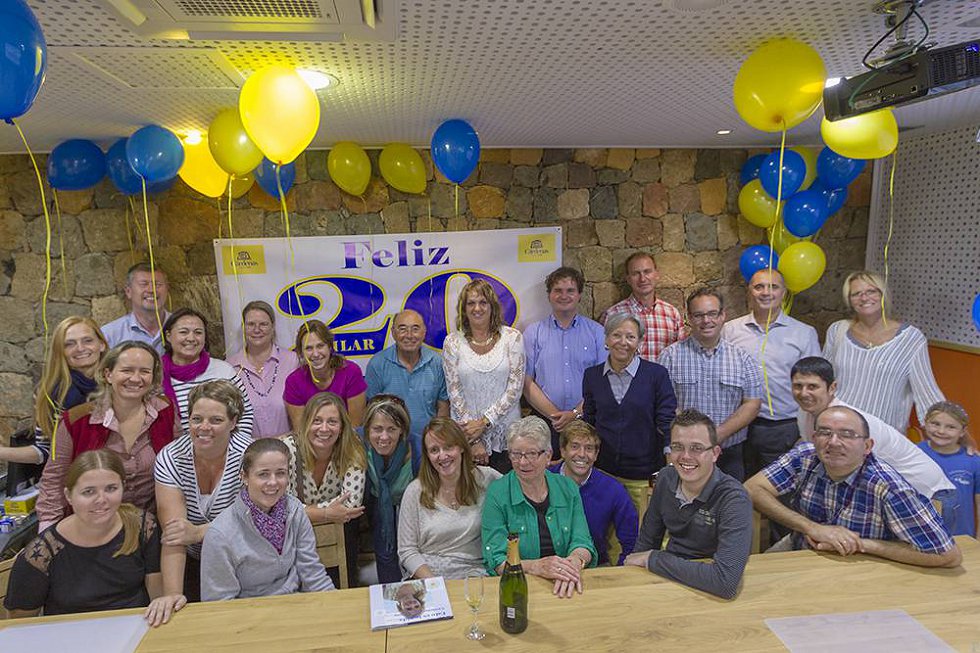 Pilar Gago Nolasco was Cardenas' first employee and 20 years later she is one of the pillars of the company. For her anniversary we threw a party to celebrate and look forward to many more years of Pilar's hard work and positive attitude.
Between the cake, the champagne and speeches by Antonio, and his daughter and current Cardenas managing director Carolina, the event was great fun. It was a lovely opportunity for everyone to meet up and exchange their experiences of working with Pilar and to thank her for her years of support. She handled the day, and a flood of compliments,  with her typical calm, cheerful demeanour.
Shared History: Pilar and Cardenas
Cardenas first opened its doors in 1980 but it wasn't until 1994 that founders Antonio and Rolande hired Pilar to handle admin, tax and land registry procedures. She was 26-years old and it was her first job. Pilar started work at a table in the corner of our original office in Arguineguín with a smile on her face.
Today she has her own office and a loyal right hand man in Toni and still brings the smile to work every day. Antonio and Rolande often wonder how they lasted for so long without Pilar's calm efficiency and wise words. As Antonio said during his emotional speech at the party, there is definitely a "before and after Pilar" in the history of Cardenas: She is the cog that keeps the whole engine running. Pilar and Cardenas have come a long way since the early days: At the beginning Pilar lived in Las Palmas and had to commute to work and handle tax and land registry paperwork in Guia up in the north of the island.
Growing Together
Nowadays Pilar's son Joshua, just seven when she started, works alongside his mum at Cardenas, along with a team of twenty people in our four offices. Antonio and Rolande have been at the company for 34 years each, Pilar for 20, Carolina for 17, Leonor for 14, Teresa, Juan Ramon and Antonio for 12, Daniel 10 and Lucy 8 years. In total, the ten longest serving members of staff have 173 years of real estate experience at Cardenas between them. Our team of 26 staff have an average of eight years of experience. In total the team of 26 have 207 years of experience. That's an huge amount of knowledge all focused towards serving our clients.
Thank You Pilar
Pilar's story is the perfect example of our commitment to our staff and our long-standing history in south Gran Canaria. We believe in investing in our employees as this is the best way to guarantee that our clients get the best service possible. Property sales are a consequence of good service and relationship building, rather than the main purpose of our business. We exist to help our clients and Pilar has done more than anyone else to allow us to do it for so long.