25 Apr 2017
Are South Gran Canaria House Prices About To Rise?
Published in News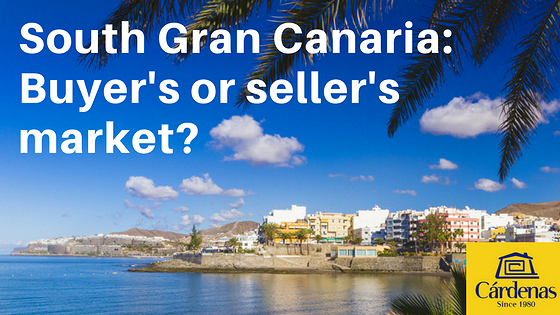 The latest figures from Spain's largest real estate portal suggest that south Gran Canaria house prices are set to rise. 
Kyero.com
's median asking price rose by 14.5% in Playa del Inglés, 7.9% in Puerto Rico, 19.3% in Maspalomas, and 5.1% in Puerto Rico. The average rise in asking price across Gran Canaria was of
+13.5%
.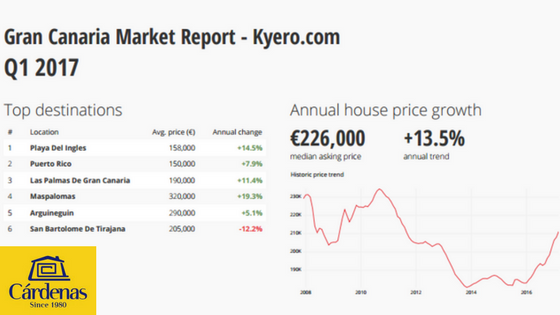 While the figures only reflect the average asking price on the Kyero portal, they do coincide with what we are seeing here at Cárdenas Real Estate: House prices in high demand areas of south Gran Canaria are picking up. In fact, we think the market is now changing nature in the most popular parts of Gran Canaria. Until recently, it was a buyer's market with prices decided by what the buyer was willing to pay. Now, it is changing over to a balanced market or even a seller's market in the most popular areas with owners beginning to ask for more money for their properties. With tourism booming in Gran Canaria, demand for quality property rising, and local banks slowly relaxing their mortgage requirements, it all suggests that sale prices are set to rise. What this means for buyers is that now is the time to make the plunge and
buy a property
. Prices per square metre are low by historical standards and there are plenty of quality properties on the market at excellent rates.
If you are interested in south Gran Canaria property, please feel free to get in touch with us here at Cárdenas Real Estate. We are the area's most recommended estate agency and have 35 years of experience helping foreign buyers.