08 Jun 2018
New Draft Canary Islands Holiday Rental Rules
Published in Legal & Tax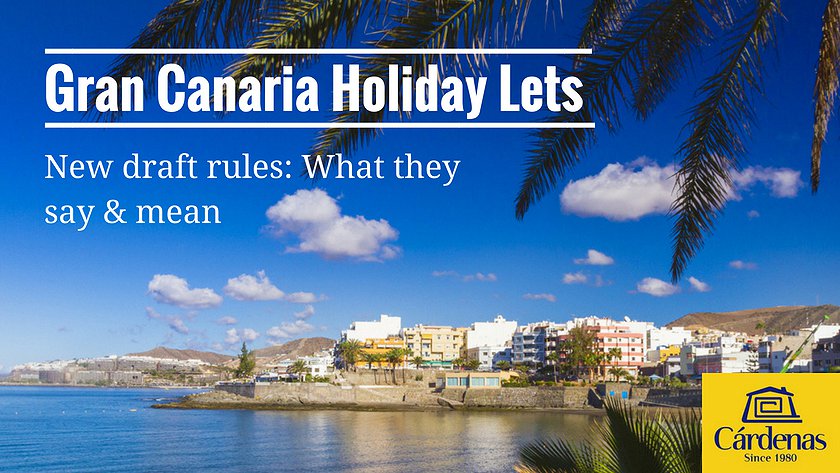 The Canary Islands Government has announced a new draft of its holiday rental rules designed to replace the current law dating to 2015.
The draft is only meant as a "working document" before it enters into public consultation and then into a final version to be to be approved by the Canarian Parliament. This could well take several months and we expect the new rules to become law around the end of 2018.
What do the new draft Canary Islands Holiday Rental rules say
In their current form, the new draft rules maintain the ban on tourist rentals in touristic resorts of Gran Canaria and even provisionally extend the ban to residential resorts located in touristic areas (south Gran Canaria is considered a touristic area).
However, they do give local Town Halls the option to decide for themselves whether they want to allow holiday rentals in residential and touristic resorts in their own municipalities.
The draft rules also ban new buildings, started after the new rules become law, from being used for tourist rentals.
Reaction to the new holiday let draft rules
So far, the new draft law has received heavy criticism from almost everyone.
The Las Palmas Association of Construction and Development Businessman said that it would restrict modernisation of old buildings and tourist infrastructure all over Gran Canaria.
The Association of Canarian Tourist Municipalities, which represents the five main Canarian tourist zones, called the draft " a hot potato that doesn't solve the problem".
The Mayor of San Bartolomé de Tirajana, Gran Canaria's largest tourist municipality, questioned the legal grounds for outsourcing tourist rental decisions to local government. He also asked why the draft effectively bans tourist rental from rural areas of Gran Canaria.
Mayor Marco Aurelio Pérez Sánchez also stated that the new draft 'repeats the same mistakes as the 2015 law which has already been challenged in court'.
He further noted that it would take local governments several years to modify locals laws and called for a more universal and immediate solution.
In an official statement, the Canarian Business Circle questioned why the Canary Islands are complicating the issue. It called for a simple solution that allows all different models of tourist accommodation to coexist in harmony with clear laws and standards.
Tom Smulders, Vice-president of the Gran Canaria Non-hotel Tourist Accommodation Association (AEAT), stated that he was concerned that the new draft rules were a covert moratorium on the holiday rental industry and would drive it back underground.
ACEGI the Realtors Association of the Canary Islands stated that the new draft rules do not solve any of the legal uncertainty surrounding holiday rentals and were, in fact, stricter than the 2015 rules. It called for a sensible set of rules that regulate holiday rentals in tourist zones and benefit the islands and their inhabitants.
What does this all mean for Gran Canaria holiday rentals?
The draft rules are still open to change and widespread complaints about their current form suggest that they will be modified before becoming law. It is too early to speculate on what the final text of the new law will say.
However, we do know that anyone who already has a registered holiday home (vivienda vacacional) or gets it registered before the new draft law is approved, will not lose existing license rights as they would be consolidated under Spanish Law: This is also specifically stated in the new draft rules (Disposición Transitoria Cuarta). Owners of a registered "Vivienda Vacacional" would have to conform to new standards but would not lose their rights to rent it out.
The 2015 rules allow properties in residential areas to be registered as a Vivienda Vacacional. This means that it is a good time to start the application process as properties registered under 2015 rules could become scarce commodities.
Examples of such residential areas in the municipality Mogán are: Loma Dos, Arguineguin town, Valle de Puerto Rico and Motor Grande, Tauro Valley, Mogán Valley, and some areas of Puerto de Mogán.
In San Bartolomé de Tirajana the residential areas include El Tablero, San Fernando, Meloneras (El Hornillo), Montaña la Data, Monte León, and Castillo del Romeral.
It is also worth noting that the tourist rental rules only apply to properties that are advertised on a 'tourist portal' (essentially anywhere on a website or in print), and for a duration that is shorter than 6 months. They do not apply to properties that are rented without advertising eg. via your sphere of influence, acquaintances, friends, family, neighbours, etc.
It is perfectly legal to rent your property for holiday purposes to anyone, provided it is done via word of mouth and not by advertising (except apartments in complexes managed by touristic operators).
Carolina is the managing director of Cárdenas Real Estate, south Gran Canaria's most recommended estate agency, and former vice-president of the Realtors Association of the Canary Islands (ACEGI). She is a respected broker with over twenty years of experience in the sector.