30 Oct 2019
Canary Islands Ombudsman Challenges Laws Restricting Property Use In Resort Areas
Published in News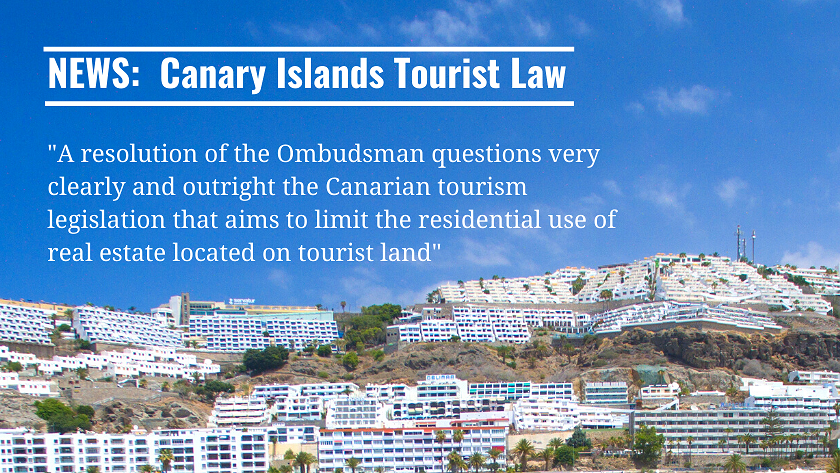 On October 20, 2019 the Platform for People Affected by Tourism Law (PALT) made public an encouraging declaration by the Canary Islands Ombudsman on the subject of Canary Islands laws that limit the residential use of tourist resort property. The Ombudsman challenges the laws strongly and recommends that the Canary Islands government modify them for the following reasons:
There has never been specialized touristic land in the Canary Islands, and touristic land use has always been compatible with residential land use. This mixed use is part of the reality of touristic areas.
The prohibition of residential land use in tourist complexes is a new creation of Law 2/2013 and does not take into account the previous rights acquired by owners.
Although permanent residential use and tourist use on the same plot can be a source of conflict, second residence use is perfectly compatible. The current legislation ignores the existence and importance of second residence property use in tourist areas.
If the Administration considers and justifies that, for reasons of general interest, it is necessary to prohibit residential use on tourist land or on certain plots, it can do so. However it must compensate affected property owners for imposing limits on their property rights.
The obligation that touristic complexes be managed by a single entity is a limitation to the right to property, and to the freedom of enterprise.
In summary the Ombudsman, an institution composed of well-known lawyers, has declared that several provisions of Canarian tourism legislation are illegal and unconstitutional. Although the Ombudsman's resolutions are only recommendations it does have the power, as stated in its resolution, to appeal to the Constitutional Court if the Government refuses to modify the law. At Cardenas Real Estate, we believe this is good news for current and future property owners because the current laws generate confusion and legal uncertainty even though they have not had many direct repercussions. Encouragingly some politicians, such as the mayor of San Bartolomé de Tirajana Conchi Narváez (PSOE), have spoken out in support of the Ombudsman's position. Once again, we'd like to highlight the work carried out by the Platform for People Affected by Tourism Law (PALT) in defence of the interests of property owners on touristic land. We encourage anyone affected to join the platform for an annual contribution of only 60 euros, and thus support their ongoing labour.   Related links: http://afectadosporlaleyturistica.com/es/el-defensor-del-pueblo-destroza-la-chapucera-legislacion-turistica-canaria/?fbclid=IwAR34-H_dtdtwNDXF9ccucUrLpITjTZ7MLSv5v4SxzRObaIKDBMltykW89MA http://afectadosporlaleyturistica.com/en/the-ombudsman-destroys-sloppy-canarian-tourism-legislation/ https://maspalomasahora.com/art/49432/narvaez-me-parece-de-una-logica-aplastante-lo-que-dice-el-defensor-del-pueblo-sobre-la-residencializacion https://www.canarias7.es/economia/turismo/canarias-debe-respetar-el-uso-residencial-de-apartamentos-o-indemnizar-DY8122858 https://www.eldia.es/canarias/2019/10/21/defensor-pueblo-alerta-ejecutivo-ley/1018240.html