19 Dec 2018
Cárdenas Real Estate Review From Happy Property Buyer
Published in News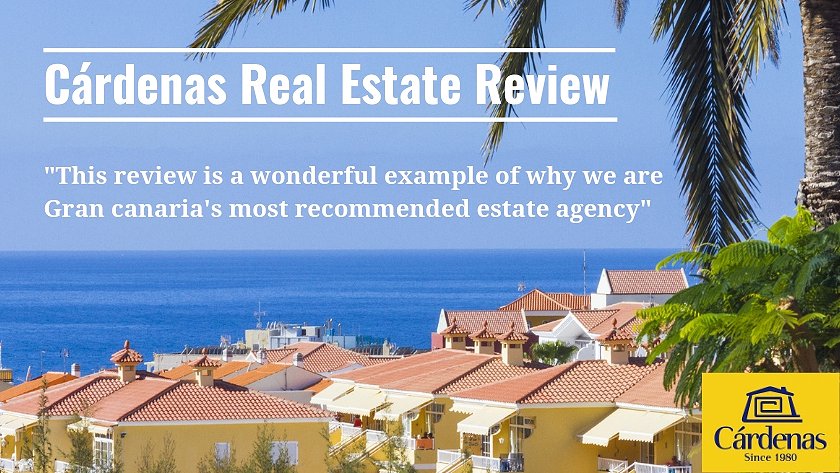 With hundreds of positive reviews published on social media and on our website, we at Cárdenas Real Estate are proud to say that we are south Gran Canaria's most recommended estate agent.
This Cárdenas Real Estate Review, by Gran Canaria property buyer Neil Pad, is a wonderful example of how we work.
When I first came to Gran Canaria over two years ago, I fell in love with this Island. I recall when walking down the steps of the aeroplane I felt the heat on my face was such a wonderful feeling, especially coming from England which is cold, dark, raining and not to mention snowing in the winter. The week I was here I loved it and like most of us did not want to go back to England.
When we got back to England we decided to purchase a place here on Gran Canaria. I started looking online and found a forum that I could advertise on what I was looking for, this includes budget, location property type etc.
Cardenas was the first agent who contacted me and I had the pleasure to be introduced to Stephan Bergonje who is an agent for Cardenas. At first, I was worried about not been able to speak Spanish but when Stephan spoke, he spoke fluent English very clearly which put me at ease and I was very happy I could explain my self-better to him with regards to what I was wanting to buy and our requirements.
Stephan was very professional and understanding towards our needs with regards to getting the property we wanted.. Through the process, we came across some obstacles which was related with another Real Estate Agency but Stephan and Ainhoa, responsible for the Transaction Team within Cardenas, were always there to advise us and keep us informed of the process.
Stephan arranged Cardenas to be our legal team, tax adviser and also arranging Cardenas to handle all my utility bills among other services. I found this service to be wonderful and stress-free. The day of the signing for our property the whole process went very smoothly.
Once we obtained our property, Stephan recommended and introduced a building company that he has worked with in the past and still this present day. He arranged a meeting right away as he knew I wanted to renovate the property we had purchased. Stephan's recommendation was spot on, my newly renovated place is perfect and everything that I wanted.
Not only that; Stephan went out of his way to drive me to the internet shop to help me set up the internet in my new property. I had to go back to London for two weeks but I had the engineers coming to install the internet and me not been here I was worried, Stephan arranged that he would be at our property while the engineers were working on installing internet.
Stephan knows his job and more than anything else he knows how to treat people going beyond his role. I would have not asked for a better agent and it has been a great pleasure to have Stephan by our side.
I would recommend Stephan to any person or persons looking for honest, reliable, and trustworthy agent and company who knows the rights and wrongs and also having a professional team behind him who knows in's and out's to obtaining a property here in Gran Canaria. I would not use the words agent as I consider Stephan as a dear friend now and will always be.
Thank you, Stephan, hope you have many happy successful years ahead of you.
Many thanks, Neil
Thank you Neil for your wonderful review of Stephan and the overall service we offer to all our Gran Canaria property buyers (and sellers, of course).
If you want to know more about buying a property here in Gran Canaria, please feel free to contact us at any time, or pop into one of our five offices in south Gran Canaria.