20 May 2019
Do I Save Money If I Buy Property Without A Gran Canaria Estate Agent?
Published in Buyer tips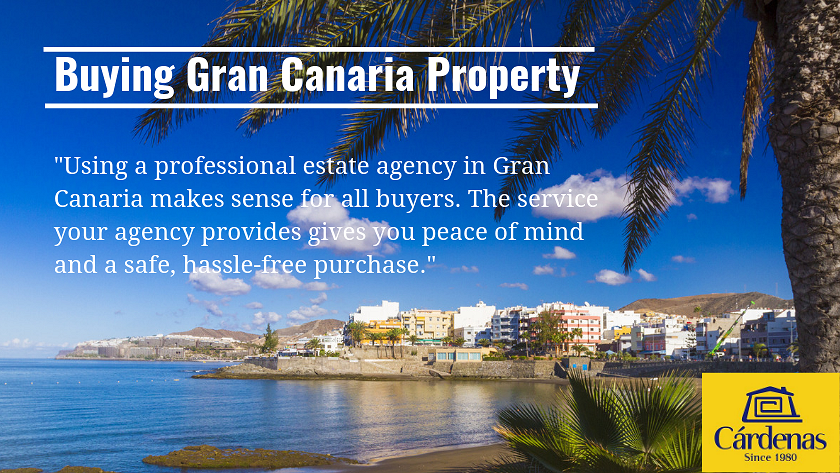 Buying a property in Gran Canaria without using an estate agent is perfectly possible but increases your risks significantly. For buyers, and especially foreign buyers, the additional risk just isn't worth it. Going it alone doesn't save you money because all agency fees are paid by the seller. Using a good estate agency in Gran Canaria brings you peace of mind. You know that your property purchase is completely risk-free and above board. Here are the main ways that using a quality estate agency in Gran Canaria benefits you as a buyer.
Access to all for-sale properties in Gran Canaria
Good estate agencies can search the entire database of properties for sale in your area of interest. They also have contacts in the area and can track down unlisted properties. As an independent buyer, you have to search through a huge range of websites, agency windows and private listings to find properties for sale. A good agency does this for you at no cost.
Market knowledge & valuation skills
A good estate agent is a specialist in his area and is focused on finding the best property for his customers, no matter if it's on his own portfolio or on that of some fellow agent, rather than pushing them to buy a property on his books. If you provide your agent with specific information about your needs, wishes, and lifestyle they will be able to advice on the best available options on the market and explain why based on this specific local knowledge. Good estate agents can accurately value property by studying the market and comparable sales in the area. Buyers and sellers know that they are getting a fair price, even if they don't know the market in detail.
Legal checks and certainty
Before you buy a property in Gran Canaria, you must check that it is free of back taxes and charges and that the whole property is owned by the seller. Otherwise, you run the risk of discovering unpleasant and expensive surprises long after you hand over your money. Professional agencies do these checks for you and their local knowledge means that you can purchase without having to worry.
Support with paperwork and bureaucracy
Buying in Gran Canaria involves plenty of paperwork from reservation and purchase contracts to land registry forms, energy certificates and utility bills. Good estate agencies handle all of this for you.
Financial guarantees
There is nothing more daunting than handing over a huge amount of money without being 100% sure that it is protected. Quality Gran Canaria estate agencies have insurance in place to protect your deposit until a purchase is complete.
After-sales services
The process of buying and settling into a Gran Canaria property doesn't end as soon as you sign the contract. You still have to register the property, change over utility bills and arrange insurance. Quality agencies handle the after-sales part of buying a property for you. This saves a huge amount of time and hassle and you know that your property is correctly registered and insured.
Language support
Gran Canaria is a cosmopolitan island and it's rare to find a buyer and seller that speak the same language, especially in the resorts. Professional estate agencies bridge the language gap by employing multilingual staff: at Cárdenas, our team speak nine languages. Negotiating a property purchase with language difficulties makes the process much more complicated and risky.
Negotiation
Professional agencies visit high-quality training courses, they know the market in detail and know how to pass your offer to the seller so that you get your dreamed property at the best possible price.
Conclusion: Using a Gran Canaria estate agency to buy makes sense
Using a professional estate agency in Gran Canaria makes sense for all buyers. The service your agency provides gives you peace of mind and a safe, hassle-free purchase. Their legal and financial know-how means that you don't end up paying for somebody else's mistake down the line. For more useful tips about buying a Gran Canaria property, see our Buyers Guide Section.