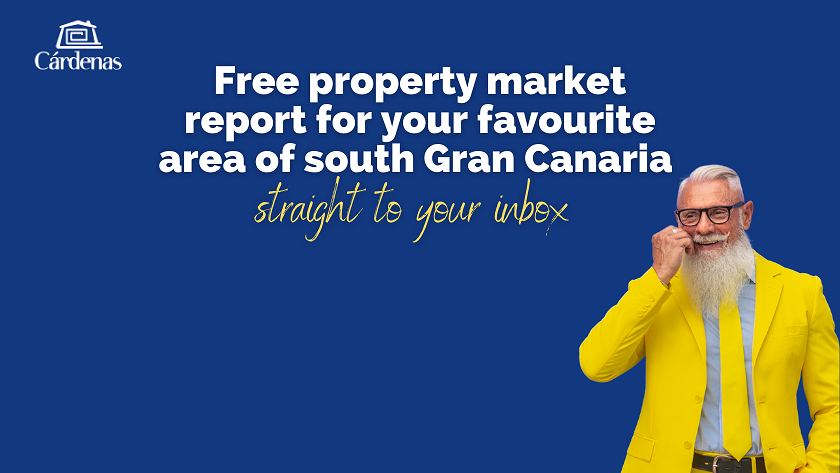 Cárdenas Real Estate now offers a completely free quarterly report about all areas of the south Gran Canaria property market. Sign up for the report about your favourite area with just a few clicks.
For over 40 years, Cárdenas has taken care of our clients' best interests. We have always believed that our focus must be on providing our clients with as much transparent and useful information about Gran Canaria property as possible.
This focus, combined with our comprehensive understanding of the south Gran Canaria property has led us to create a unique and valuable tool: Our focused, quarterly market report delivered free of charge to your email inbox.
Whether you want to sell your property, buy a new home, or are considering investing in real estate assets, this tool lets you track the market anywhere in south Gran Canaria.
By subscribing, you will receive a complete report every three months with updated market data in your area completely free of charge and with no obligations at all.
The report includes up-to-date information about average property prices in the area, tracks the changes to both prices and buyer demand in each area, and also details the supply of property in each area.
So, if you have a property in Amadores, Puerto Rico and are considering selling it, our Amadores property report tells you the average price in the area, tracks the price changes over time, and lets you know about the number of people searching for property in the zone as well as the number of properties for sale.
Or, if you've always wanted to own a property in Patalavaca, you can watch the prices and how they develop and see how much property is available on the market.
Choose your area of interest and sign up for our free property report here.
Cárdenas Real Estate always at your service
If you have any questions about the report, or about south Gran Canaria property in general, contact our team of advisors. We are here to help you because we like to take care of our customers.
That is why we are the most recommended real estate agency in Gran Canaria, with 4 offices and thousands of satisfied clients.