07 Mar 2018
The Benefits Of Gran Canaria Open House Events & Services
Published in Seller tips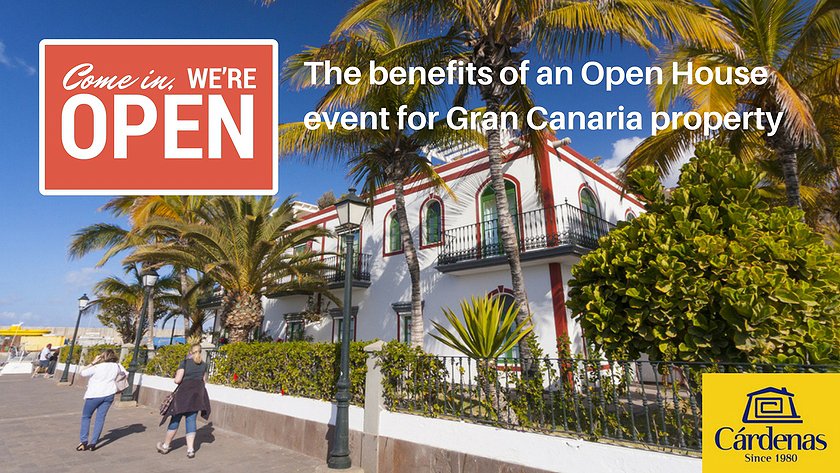 For the right property, a Gran Canaria Open House event is the perfect way to market to potential buyers as it raises awareness amongst both buyers and the real estate sector. Gran Canaria Open House events work best for certain types of properties with a potential to receive many visits on the selected day for the event and for new-build developments or refurbishment projects with multiple units for sale. Download our free PDF guide for a complete tutorial about selling your south Gran Canaria property.
The benefits of an Open House
Here are four major advantages of hosting an Open House at your property.
Raising buyer awareness
An Open House raises market awareness amongst all kinds of potential buyers, especially people who already own one nearby and are looking to move into a new property and area. An Open House also give potential buyers a good reason to revisit a property they have previously seen but not decided to buy.
Efficient viewings
A Gran Canaria Open House event attracts lots of buyers on one day which is an efficient way for both owners and developers to host visits without disrupting their schedules. This is especially true for owners who live in the property they are selling. And, because there is a professional team on site during the day to host visitors, it guarantees that every viewer gets a complete view of the property and answers to any questions. Potential buyers also leave with an information package and contact details making follow-up easier.
Create a buzz
An open house event that is widely promoted on social media and to active buyers via email increases the buzz surrounding a property sale. Even if potential buyers can't make it on the day, they are aware that the property is on the market and attracting interest. Staging an event also signals that a property is high quality and worthy of investment.
Gets your property ready
Preparing for an Open House event is an effective and efficient way of getting your property ready to sell as you know that it needs to be in tip-top condition for the day. As you know that your property will be getting lots of visits you can invest the time and money to prepare the garden, home-stage the rooms and remove any clutter.  
Gran Canaria Open House Example: La Venecia de Tauro
Cárdenas recently hosted a successful Open House event at the new La Venecia de Tauro development. We promoted the event on social media and yo our extensive list of active buyers via email. We leafleted the local area and put up eye-catching signs. We had 39 groups of buyers attend during the Open House day and provided them all with an information package to take away as well as food and drink.
Open House services by Cárdenas Real Estate
At Cardenas Real estate, we offer a complete Gran canaria Open House service to property owners and developers. We provide everything needed for a successful property showing including… Design of adverts & flyers Flyer printing and distribution Promotional video including drone footage Promotion on social media and different online media Catering We also arrange professional Open House events known as Safaris designed to raise awareness amongst south Gran Canaria's best estate agents and real estate agencies. A safari guarantees that your property gets the maximum possible exposure amongst agents and their buyers in south Gran Canaria. Please contact us if you are interested in organising an Open House or safari event in south Gran Canaria. With over 38 years of experience, we at Cárdenas Real estate are south Gran Canaria's most recommended estate agency. We offer a full range of services to both property buyers and sellers.