29 Aug 2019
Gran Canaria Property Area Guide: Los Riscos De Playa De Mogán
Published in Buyer tips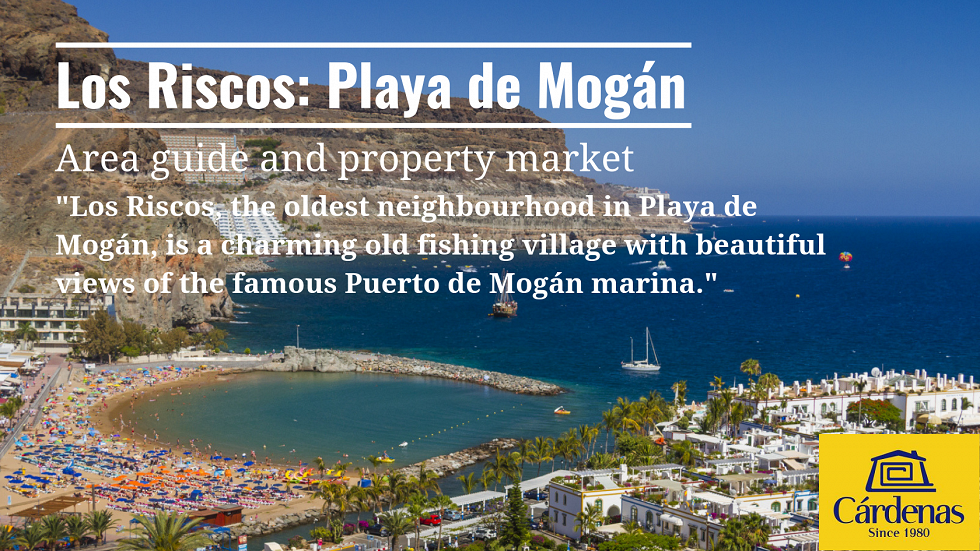 Los Riscos, the oldest neighbourhood in Playa de Mogán, is a charming old fishing village with beautiful views of the famous Puerto de Mogán marina.
Where in South Gran Canaria is Los Riscos?
South-facing Los Riscos occupies the hillside just behind the famous Puerto de Mogán marina in south west Gran Canaria. Mogán is one of Europe's sunniest places with over 320 sunny days per year.
It's a small neighbourhood with a long history and was built long before Mogán became a resort and tourist destination.
In the old days, Mogán's fishermen hauled their boats out on the shingle beach and used the flat areas of the coast to process their fish and store their nets. They built their houses on the slope of the hill behind the coast and this is now known as Los Riscos de Playa de Mogán.
Los Riscos' historical fishing links mean that people from Mogán often call it the Barrio Marinero; the sailors neighbourhood.
Why is Los Riscos a Gran Canaria property hotspot
As the oldest part of Playa de Mogán, Los Riscos oozes with local charm. The whole barrio is pedestrian with narrow, winding paths between houses and almost every house has a stunning view of the marina and the beach. It still has a quiet, residential and most people living here are locals.
Los Riscos is also south-facing and gets sunshine almost all day long. Most buildings have flat roof areas that make excellent terraces.
What's in Los Riscos de Playa de Mogán?
There are around 170 buildings in the Los Riscos barrio although many are divided into several properties. The area also has several local shops and a Farmacia as well as the town's original Plaza complete with huge shade tree.
Because Playa de Mogán is a small resort, you are also  within walking distance of all the quality restaurants and shops in the marina area and behind the beach.
Property in Los Riscos de Playa de Mogán
There is a limited amount of property in Los Riscos and it tends to sell fast when it comes onto the market. Prices vary depending on whether a property has outside space and/or views. Almost all properties are apartments although there are also houses.
As an indication of 2019 prices, recent sale prices in Los Riscos include a renovated 2-bedroom apartment; sold for 250,000 euros, 2-bedroom penthouse, new construction with solarium; sold for 700,000 euros, and an unreformed 3-bedroom house; sold for 280,000 euros
The future of Los Riscos
The Mogán Town Hall has just announced a major refurbishment of the public areas of Los Riscos, including the facades of the barrio's houses and buildings. A second round of investment in Los Riscos goes out to tender late in 2019.
This will make the area significantly more attractive for both residents and visitors and will likely lead to a revaluation of Los Riscos property.
The area will never lose it's authenticity because it already occupies all available land on the hill next to Puerto de Mogán marina and therefore cannot expand.
Cárdenas Real Estate in Puerto de Mogán
The Cárdenas Real Estate office in Playa de Mogán is in Puerto de Mogán marina just over the road from the old plaza at the bottom of Los Riscos.. We are one of the area's leading estate agencies with a long history of working with property owners and buyers.
Please feel free to contact us if you have any questions about property in Los Riscos, Mogán, or south Gran Canaria in general.