15 Jan 2018
Gran Canaria Property Area Guide: Playa del Cura
Published in Buyer tips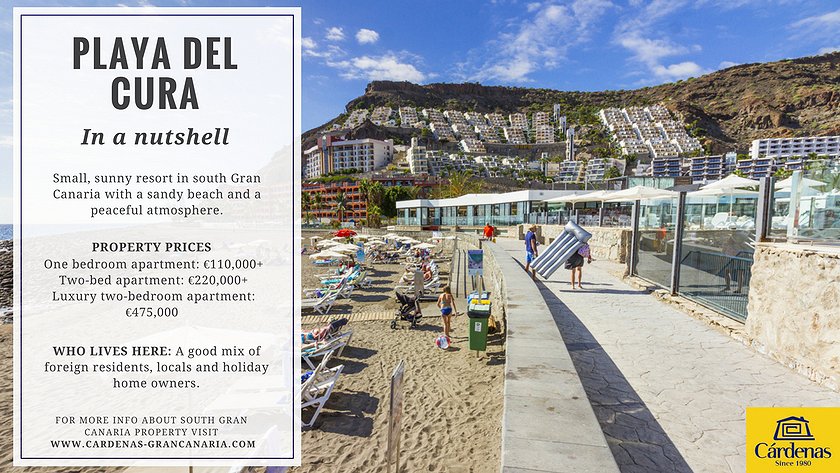 If you're looking for a sunny, tranquil place to buy a property in south Gran Canaria that has beautiful sea views and everything within walking distance, Playa del Cura is ideal.
Why Playa del Cura is such a popular property hotspot
Playa del Cura is a peaceful resort with its own natural, sandy beach. It sits in the south Gran Canaria bubble of sunshine and has lots of palm trees and a wide open area by the sea.
It's a popular spot with property buyers because it is small and quiet but has everything you need for a relaxing holiday or lifestyle. At Playa del Cura you get the peaceful surroundings but are close to livelier places like Puerto Rico and Mogán.
Where is Playa del Cura?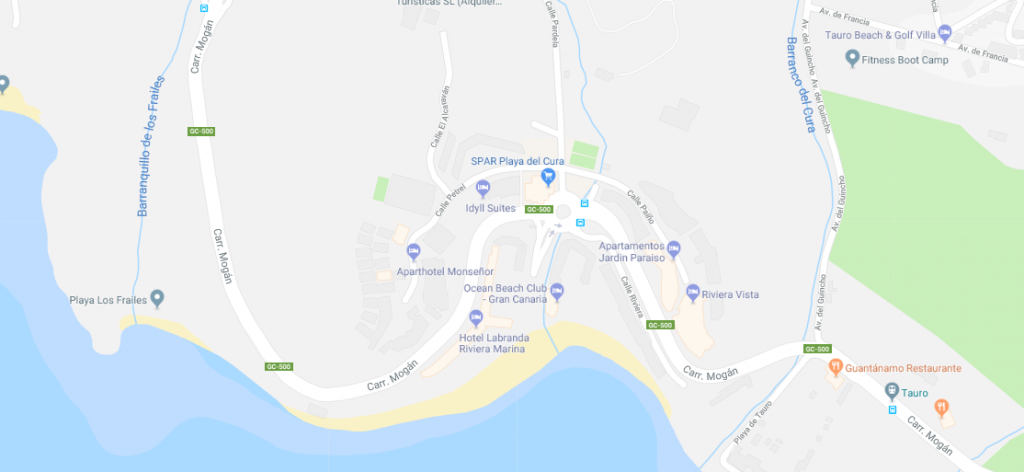 Playa del Cura is just around the corner from Amadores and Tauro beaches as you head along the GC 500 road towards Puerto de Mogán.
It is within easy-walking-distance of Tauro beach and about 15 minutes walk from the beach and restaurants at Amadores. A taxi from Playa del Cura to Puerto Rico resort takes ten minutes and costs less than 10 euros.
What's in Playa del Cura?
Playa del Cura resort centres around its 400m sandy beach. Aside from a couple of hotels by the beach, most property here is private and owned by a mix of foreign residents, holiday homeowners and locals.
There's a park by the sea and a small shopping centre with restaurants and a big supermarket between the road and the ocean. Most of the property in Playa del Cura is on the hillsides surrounding the beach but there are some bungalows in the flat part of the valley by the coast.
Inland, Playa del Cura is quiet and natural and the semi-rural property here is private and very peaceful.
Property in Playa del Cura
Most property in Playa del Cura consists of apartments in complexes build on the hillsides. Almost all of them have an uninterrupted view of the sea and the south Gran Canaria coastline.
Property in Playa del Cura is in high demand because there is a limited supply and most apartments in the resort sell fast.
Prices in Playa de Cura start at €110,000 for a one bedroom apartment on a simple complex and €220,000 for a two-bedroom apartment. A spacious, luxury two-bedroom apartment costs €475,000.
See property for sale in Playa del Cura.
The future of Playa del Cura
Because Playa del Cura is built in a small valley it is unlikely to grow much in the future. However, it will benefit from the development of Tauro and the Tauro beachfront. Within a few years, Tauro will have a beachfront promenade and a coastal path to Amadores and all the way to Puerto Rico. This will make Playa del Cura more accessible for walkers but won't mean an increase in traffic.