24 Oct 2017
Gran Canaria Property Glossary: M-Z
Published in Legal & Tax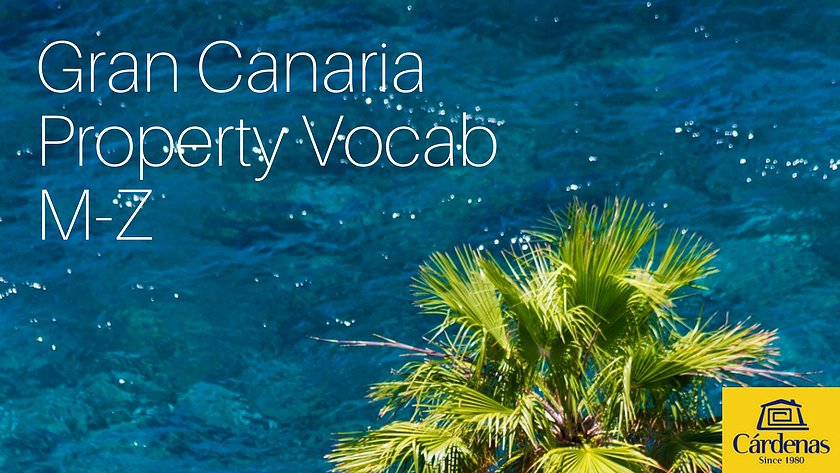 Here's part two of our Gran Canaria property glossary with all the most common and useful Spanish property words used by buyers and sellers. We hope it's useful and please let us know if you come across a word you think we should include. 
Read Part One here
.
Metros cuadrados
: The area of a property, measured in square metres.
N.I.E
: Identity Number for Foreigners - required for a property purchase
Nota Simple Informativa
: Extract from the land register with main points from the land registry
Notario
: The Notary Public records the details of all property purchases in Spain and makes sure that both buyer and seller understand the details of the contract.
Nota Simple
: Certificate from the land registry that records the main details of a property.
Oferta vinculante
: Bank document specifying mortgage conditions
Piscina
: Swimming pool
Piscina communal
: Shared swimming pool
Piso
: Residential flat
Playa
: Beach
Plusvalia
: Capital gains tax (paid by seller)
Poder
: Power of Attorney
Prestamo hipotecario
: Mortgage loan
Preinstalación
: Property pre-fitted for aircon or other electrical devices
Primera Linea
: Front line building by the sea
Plaza de Garaje
: Parking space
Pueblo
: Town or village
Registro de la Propiedad
: Land registry
Representante fiscal
: Official tax representative
Residencia
: Residency permit
Residente
: Resident
Retención
: 3% retention made by the Spanish government when a property seller is non-resident
Salon
: Lounge
Se vende
: For sale
Se alquila
: For Rent
Seguro
: Insurance
Sin amueblar
: Unfurnished
Sobre plano
: Off plan
Solar
: Plot of land
Sotano
: Basement
Tasación
: Independent valuation of property
Terraza
: Terrace
Tipo de interés
: Interest rate
Trastero
: Storeroom
Triplex
: Three story townhouse
Usufructo
: Right to use a property or common area (such as a roof terrace)
Valor Catastral
: Assessed value of property for tax purposes
Vistas al mar
: Sea view
WC
: Small bathroom
Zona residencial
: Residential area
Zona turística
: Tourist resort
Zonas comunes
: Communal areas of a complex or building
Cárdenas Real Estate are south Gran Canaria's most recommended estate agency and have been in business since 1980. If you plan to buy or sell in south Gran Canaria, we are the safe and smart way to do it.