01 Jul 2021
Gran Canaria Property: Squatters And Your Rights As A Property Owner
Published in Legal & Tax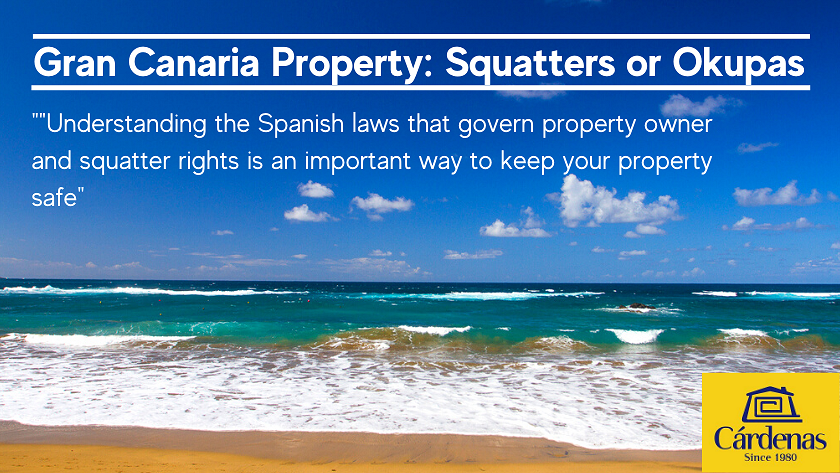 UPDATE TO THIS POST In 2023 changes to Spanish law made it harder to remove squatters. We are waiting to see if the incoming Spanish government makes any changes to this law to improve the rights of property owners. In any case, we always recommend the installation of an alarm system in second residences or unoccupied houses.
Squatters are known as Okupas in Spain and the Canary Islands. In Gran Canaria they are a rare but complex problem. Understanding the Spanish laws that govern property owner's and squatter's rights is an important way of keeping your property safe and dealing with squatters.
If someone occupies your property in Spain, they are guilty of one of two possible crimes.
1) Allanamiento de morada (breaking and entering): if squatters occupy a property without permission that is habitable (furnished and connected to the services essential for habitation such as water and electricity), they are committing a crime known as "allanamiento de morada". This is equivalent to breaking and entering and the police can often act immediately to remove them from the property. Moreover, it is a criminal offence punishable by 6 months to 2 years imprisonment, so it is quite infrequent.
2) Usurpación de inmueble (squatting): if squatters occupy a property that is not habitable, they commit the lesser Spanish crime of "usurpación de inmueble" which is equivalent to squatting. In this case, the eviction process takes longer. This is why it is the most frequent case of squatting: the crime is lesser and the time they can stay in the property is longer.
Squatters in holiday homes and second residences
A holiday home or second residence is considered a home under Spanish law provided that it is furnished and connected to essential services.This interpretation has been introduced relatively recently by a decision of the State Attorney General's Office in September 2020, >greatly increasing the protection of owners of second homes. Anyone who enters a property in this state is guilty of a permanent criminal offence under Spanish law and can be evicted immediately. 
There are two options for eviction:
1) Police action: if your property is occupied, immediately notify the police. As this is a permanent crime, it is considered flagrante delicto and the police can act immediately to evict the occupants. However, eviction may not take place if the occupants provide a rental contract (even if it may appear to be false), or utility bills in their name, since the police will not assess the validity of these documents, and can only carry out an investigation and report to the court. In that case, you will have no choice but to go to court.
2) Lawsuit. When the police action is unsuccessful, you can go to court through civil proceedings and request the recovery of the property with a special and quick judicial procedure called "interdicto posesorio". The court, after receiving such a request, will give the occupants a period of five days to provide occupation title to the property, and if they fail to do so, they will be evicted immediately. This option is not valid if the owner is a company, in which case it would be necessary to go to another type of civil procedure, which is slower.
Measures to prevent squatters in Gran Canaria
To make sure your property is classified as a habitable home in the case of squatters, keep the water and electricity connected when you are not using the property.
It is also advisable to have an alarm system that warns you as soon as someone enters your holiday property without permission.
Another important tip is to have utility bills sent to your main residence or via email rather than to your holiday property. The personal information on bills can be used by squatters to get accounts changed into their own names, or falsify them.