28 Dec 2020
Gran Canaria The Perfect Location For Remote Working In Europe
Published in Living in Gran Canaria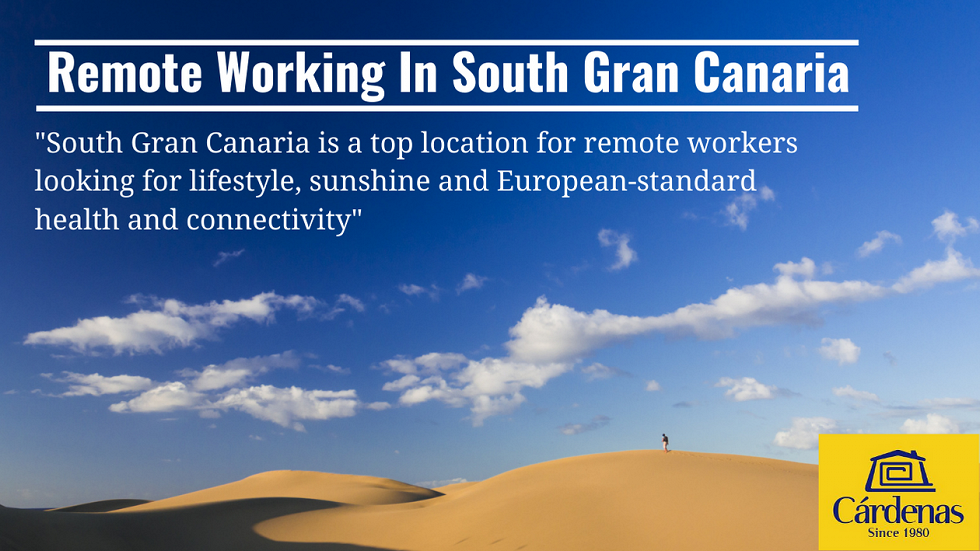 Remote working is to be a rare positive legacy of 2020. Many companies now realise that employees are more motivated and productive when they work remotely.
And as a remote working base, few places in Europe has as much to offer as Gran Canaria and particularly the south of the island.  South Gran Canaria sits in a bubble of sunshine with over 220 sunny days per year,  low living costs, European standards of safety and healthcare, and a Quality of Life score in the top 5% worldwide. 
South Gran Canaria also has dozens of beaches, world-class hiking and water sports, an excellent selection of bars, cafes and restaurants and everything you need to work remotely in comfort. 
Why south Gran Canaria for remote working? Weather and geography
Gran Canaria has over 80 beaches and most of the best ones are in the south of the island. The southern highlands reach almost 2000 metres in altitude with open pine forest and pretty rural villages and scenery. The area has everything from golden sand dunes to rugged valleys all within just a short drive.
The weather is south Gran Canaria is the best in Europe with almost constant sunshine and average temperatures of over 20ºC throughout the year. Most areas are calm and the sea is swimmable throughout the year.
Wher¡ther you choose a resort area like Playa del Inglés, Puerto Rico or Playa de Mogán, or a local area like San Fernando, El Tablero or Pueblo de Mogán, south Gran Canaria has a wide range of places to live in comfort.
Why south Gran Canaria for remote working? Location and connectivity
Located just 4-5 hours flight from anywhere in Europe, Gran Canaria right in the middle of Europe, Africa and the Americas and as a major European tourist destination the island is connected to over 100 European cities. The south of Gran Canaria is between 20 and 40 minutes drive from the airport depending on the area you choose.
In terms of telecoms and internet connections, almost all areas of south Gran Canaria have impeccable mobile coverage and fibre-optic internet connections that costs between 40-70€ per month. Gran Canaria's internet speeds are often faster than what visitors are used to at home.
Why south Gran Canaria for remote working? Quality of life and Island lifestyle
The lifestyle and quality of life that south Gran Canaria offers is a big attraction for remote workers looking for the ideal base to work and play.
The weather and location mean you can do almost anything you want throughout the year including diving, windsurfing (on the east coast), hiking and swimming.
Another huge advantage of Gran Canaria is that as a part of Spain and the European Union, it offers European standard healthcare and education to residents. However, compared to many other popular resort and holiday areas of Europe, the cost of living in south Gran Canaria is low. And compared to almost all areas of the world popular with budget remote workers, crime levels in Gran Canaria are low.
The Numbeo.com Quality of Life website gives ran Canaria's main city a high score of 173.14 which is amongst the top 5% of Numbeo's European rankings. This compares favourably to other popular remote working spots like Valencia (score of 171.39) and Lisbon (score of 149.74). Given its better weather, the south of Gran Canaria, which isn't ranked because it isn't a city, would likely receive a higher score than Las Palmas.
The south of Gran Canaria has a sunnier climate than the capital which is famous as the city with the world's most pleasant climate. It is also the city with the cleanest air in Spain.
Finding a place to live in Gran Canaria
The current circumstances mean that tourism numbers are down and that makes it easier for remote workers to find a quality place to live and work.
The best way to find your feet in Gran Canaria is to come on an exploratory trip or holiday and get to know the island. Then, you can either reserve a place via a good estate agency, or book a holiday let for a couple of weeks and search once you arrive.
In the past, many landlords wanted a minimum of a year's rental contract but many are now happy to sign up for six months. Another option is to rent in a complex such as the Sea Breeze which is specifically set up for medium term rental periods ideal for remote workers.
Gran Canaria property
Gran Canaria is an excellent place to own a property even if you don't plan to live permanently on the island. The property market is well regulated and property rights are enshrined in law. The costs associated with buying add up to approximately 10% of the purchase price (around 6.5% in purchase tax plus notarial and property registry fees).
Estate agency fees in Gran Canaria are paid by the seller and factored into the advertised sale price so you have nothing to lose by working with a good estate agent when looking for the right place to buy. Most agents working for professional agencies can show you any property via the island's shared database system so it's worth seeking out a good agent rather than contacting lots of them.
If you plan to live and work inn Gran Canaria permanently, be aware that you are not legally allowed to live in some resort areas of south Gran Canaria. Always get good local advice from a qualified estate agent or specialist property lawyer before buying a property.
We have a detailed selection of articles about buying a Gran Canaria property on our blog.