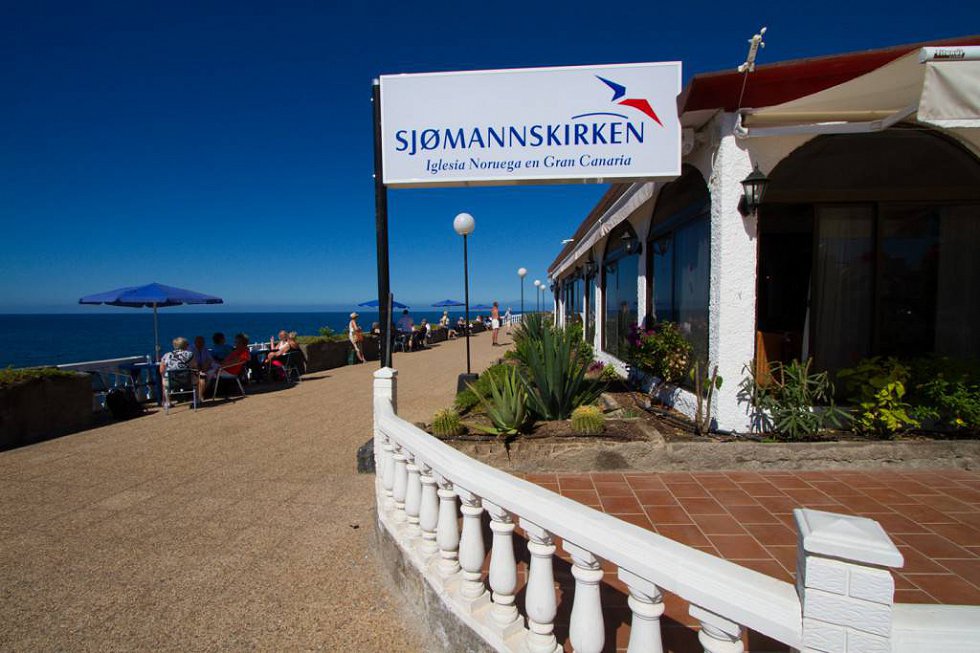 Arguineguín in south Gran Canaria is great mixture of local town and international community. In recent years it's also become a Norwegian enclave in the sunshine during the winter.
3000 Norwegians live in Arguineguín all year round and another 5000 overwinter. Gran Canaria is Norway's favourite sunshine destination and during the winter 80 flights per week shuttle people back and forth. Of a population of five million, 400,000 Norwegians come to Gran Canaria every year.
To cater to this influx, the Norwegian Church Abroad has established a chapel and cafeteria in Arguineguín. They chose a great location on the seafront promenade just by the beach and the whole set-up is fantastic. This year is an important one for the Sjomannskirken in Gran Canaria as it celebrates its 25th anniversary.
To find out more about the Norwegian community in Gran Canaria and its impressive church we interviewed minister Karl Hjelmeland. He has been in Gran Canaria for two years after spending three years in Lanzarote. Karl left Norway as he fancied a change of scenery and is clearly a huge Gran Canaria fan.
We asked Karl why Gran Canaria is so popular in Norway and he told us that it isn't just because of the weather and the warm sea. The island's quality healthcare system and clinics are a huge bonus to retired people, while everyone likes walking in the mountains and forests.
While you'll never get a Norwegian to boast it is clear that Karl and the team behind the Church are proud of their organisation: They are right to be! The church and its attached café are the island's most important meeting point for Norwegians: Together they got over 100,000 people through the door last year.
The church, staffed by two ministers year-round and a third during the winter, celebrates 150 weddings per year. The chapel holds regular services and ceremonies but during the winter the Sunday service takes place in the Arguineguín Catholic Church as there isn't room for the 400-strong congregation. It also operates a 24-hour support service in place for anyone who needs help on the island.
Staffed by volunteers the café serves waffles, sandwiches and coffee to a constant stream of smiling visitors. In true Scandinavian style everything is understated and informal: You serve yourself and can sit on the promenade or indoors. Everyone is welcome and the waffles and open sandwiches are delicious.
The Norwegian church is a great example of how Gran Canaria has become a cosmopolitan destination where everyone is welcome. If you are in Arguineguín and feel like doing something a bit different, then pop in to the Sjomannskirken and say hello.