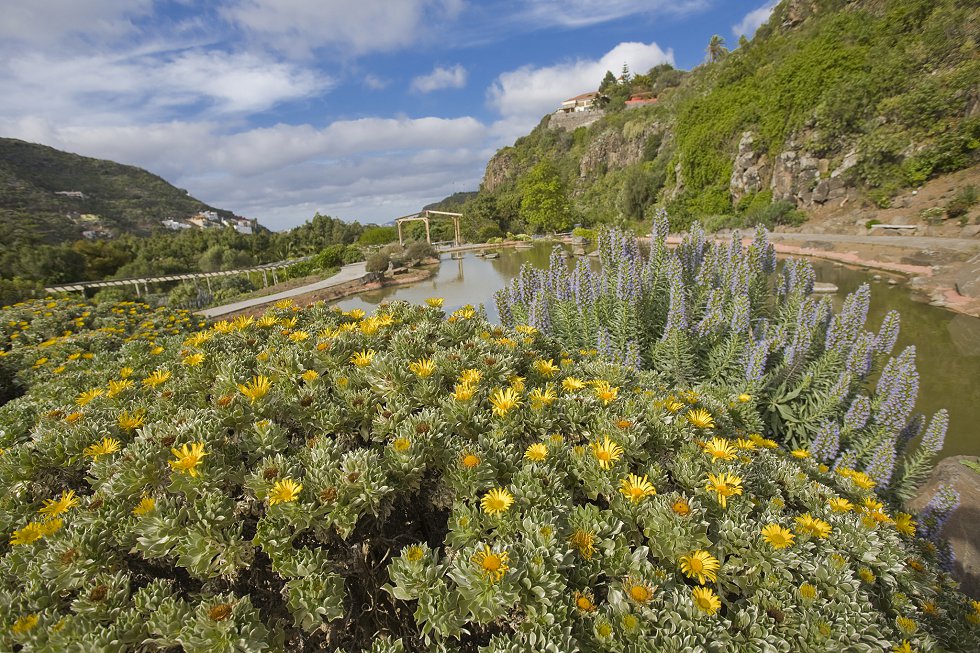 The Jardín Canario Viera y Clavijo, Gran Canaria's huge and very beautiful botanical garden, is now back open to the public with a safe car park.
Until recently, visitors to the garden had to park by the GC 310 roadside to use the main entrance. This was inconvenient and often difficult at the weekends. However, there is now a large car park next to the new entrance about 200 metres up the road from the original gates. This makes the main area of the garden accessible to all on wide, flat paths.
Visitors can also park at the top entrance but then have to walk down the narrow cliff paths to access the main area of the garden. It's a beautiful route but not for people who are bothered by heights or don't like steep paths. The top entrance is the most accessible by bus as it is on the GC 110 road between Las Palmas and Santa Brigida. Ask the bus driver to indicate the best stop as it isn't clear.
The Jardín Canario is not just a garden. It is dedicated to protecting and studying the over 600 species of unique Canary Islands plants that make the archipelago into a botanical Galapagos. Many endangered Canary Islands species grow along the paths and on the cliffs inside the gardens and more are in the nurseries and even stored in seed banks. When you are in the garden, you are surrounded by unique plants that are often so rare that you would never see them in the wild.
One example is the endangered Gran Canaria dragon tree that only grows on the cliffs of the Arguineguín Valley. It was only discovered about 25 years ago and there are less than 100 in the wild. It now grows in the botanical garden and is safe from extinction. Other highlights include lakes, a large area of unique laurel forest, and lots of native flowers in spring and early summer.
The Jardín Canario has toilets but no shop or café. There is a restaurant by the top entrance which has lovely outdoor seating and serves quality Spanish and Canarian food. You have to reserve at weekends. For a local alternative, try the spicy, roasted leg of lamb at Casa Josefina in El Zardo just a couple of minutes' drive away from the garden.
The Jardín Canario is located just inland from Las Palmas de Gran Canaria city in the north east of the island and is a must visit spot.