05 Dec 2018
The Latest News About Gran Canaria Holiday Let Rules
Published in Legal & Tax, News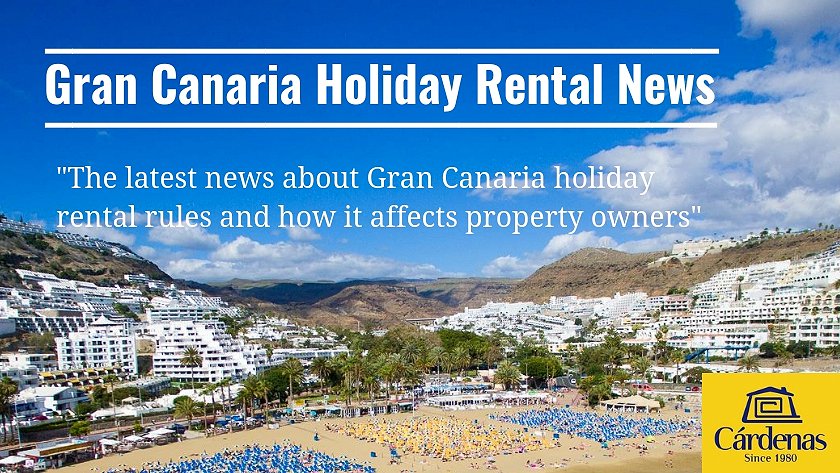 This article explains what is going on with holiday rental property law in Gran Canaria and how it affects property owners.
The 2015 current rules are still in force and efforts to modify them seem to have stalled.
Proposed new regulations require changes to both national and regional rules but would clear up many of the current uncertainties.
Owners of Gran Canaria property on touristic land now have a judicial pathway to getting a holiday rental license.
The background on holiday rental law in Gran Canaria
The current uncertainties surrounding holiday rental property law in Gran Canaria and across Spain started with a 2013 reform to the national Ley de Arrendamientos Urbanos (LAU) by the Madrid Government. This reform established that "the temporary assignment of use of the whole of a house furnished and equipped in conditions of immediate use, marketed or promoted in touristic channels for purpose of profit" would be excluded from the law and instead by regulated by tourism rules set by each Autonomous Community. The change meant that the Spanish Government was longer responsible for the hot potato of creating rules to govern the fast-growing holiday rental sector.
Legislating the sector is conflictive and complex for the following reasons...
It has to bear in mind the interests of the traditional hotel sector
It has to respect the right to free competition and the right to private property
It must take into account the real estate market because in certain areas holiday rental has a speculative effect on prices and affects residential demand
It must also factor in problems of coexistence in buildings where residents and tourists with different customs and schedules share the same space.
Attempts to modify holiday rental law in the Canary Islands & Spain
Since the reform of the LAU in 2013, several autonomous communities have issued regulations that failed to balance the interests of all parties and tended to be quite restrictive in favour of the traditional hotel sector. A further problem is that autonomous communities have no say in the rules about tenants associations or communities of owners, as these are regulated by the national Ley de Propiedad Horizontal. In its current form, this law does not adequately cover problems arising from holiday lets because it requires all property owners in a community to agree unanimously to any changes or agreements. This is often impossible when owners are at loggerheads. The idea behind this restriction is that in these areas, tourism must be managed exclusively by traditional "professional" operators. In 2015, the Canary Islands Autonomous Government approved the current rules that govern housing for tourist use. They are controversial because they prohibit activity on land that is designated for tourist use and tourism development. The rules state that in these areas, tourism must be managed exclusively by traditional "professional" operators, and not directly by private owners. The 2015 rules have already had several court decisions against them stating that they violate free competition. However, these judgments have been appealed and are, therefore, not yet firm. Many sectors have demanded that the Canarian Government modify the 2015 laws and it has been open to reform. However, it wasn't until June 2018 that it published an unofficial first "working document". This draft led to even more criticism because it extended the prohibition on tourist rentals to even wider areas and suggested leaving final authority over new rules with local government such as Town Councils and Town Councils. After this wave of criticism of the "working document", the Canarian Government appears to have abandoned the idea of modifying the current regulation. Note that the current political cycle ends in Spring of 2019 with new elections.
A potential solution to holiday rental uncertainties
At this point, both the Canary Islands and other Autonomous Regions are demanding that the Central Government intervene with a modification of different national regulations to solve the problem at the state level (which is where it started). Meetings are already taking place along these lines and the following is being considered:
Providing communities of owners with a legal framework that allows a qualified majority (3/5 of the owners) to decide whether to allow tourist housing in their community.
Modifying the Ley de Arrendamientos Urbanos so that it recognises three different types of lease: Long-term (as a habitual residence), seasonal with medium duration stays (longer than 15 days), and short-term holiday lets (less of 15 days). The first two would be regulated by the Ley de Arrendamientos Urbanos while the latter would be subject to more specific regulations decided by Regional Governments.
In our opinion, these modifications will allow for the regulation of holiday home rentals in a natural and balanced manner. Specifically, in the south of Gran Canaria, characterized by long stays during the winter months, it will eliminate uncertainty and give security to many private owners who want to rent their property for part of the year for medium duration stays. The proposed changes will allow them to do so without being subject to strict regulations.
Holiday rental rules and right at the current time in Gran Canaria
In the meantime, the Canary Government regulations from 2015 are still in force. This means that holiday rental of homes and apartments on residential land is allowed. It is also clear that any properties registered as holiday homes under the current regulations would have their status consolidated in case of any future change of regulation. As for properties on touristic land (which are not part of touristic complexes subject to the principle of "single management"), recent court decisions have opened up a way to obtain holiday rental registration, but only through a simple judicial procedure (administrative litigation) that the owner has to present on their own behalf. The
Canary Association of Vacation Rental
(ASCAV), provides the appropriate legal assistance at affordable prices. The process is not guaranteed but does have a reasonable probability of success.
This article was written By Carolina Garcia Chagrin, director of Cárdenas Real Estate: One of south Gran Canaria's oldest and most recommended estate agencies.