22 Sep 2021
Mogán Town Hall General Plans That Affect Land Use
Published in Legal & Tax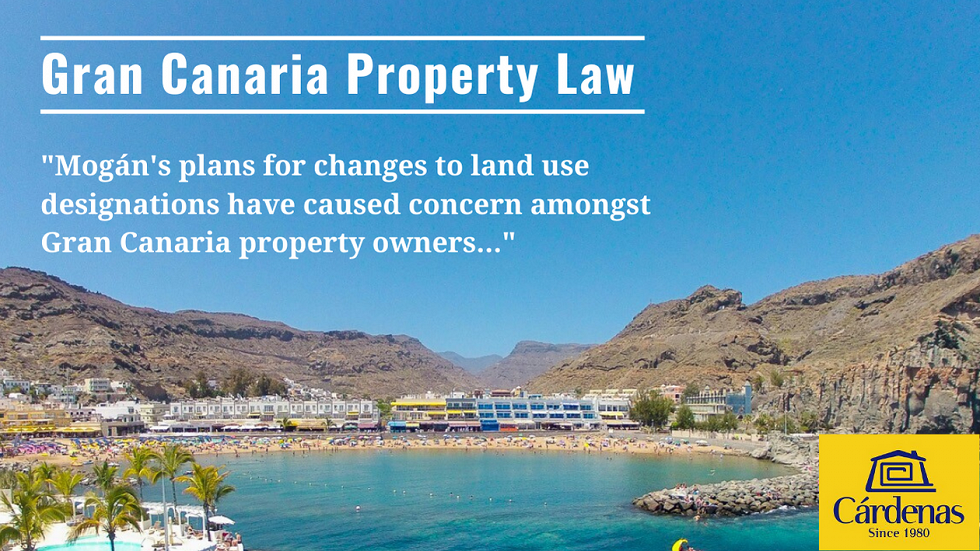 Cárdenas Real Estate is monitoring the Mogán Town Hall's 'Plan General de Ordenación Supletorio' in detail and will keep Gran Canaria property owners updated about its effects on property in the municipality.
The plan governs land use regulations in the whole municipality and in its tourist resort areas. As happened in 2015 in neighbouring San Bartolomé de Tirajana Municipality, land use designations in the plan have caused controversy.
Under the current land use planning, areas such as Puerto Rico, Amadores, Patalavaca, Playa del Cura and Puerto and Playa de Mogán as largely classified as touristic. However, many complexes have been residential, either as second homes or in some cases as prime residences, for many years. These would ideally be reclassified in the new planning to reflect their long-standing use.
See here for the land use zones under discussion.
Some areas, such as the high parts of Patalavaca, Amadores and Los Caideros, which are clearly residential will see their land use change for touristic to residential under the new Mogán plan. However, other areas such as seafront Patalavaca and Puerto Rico, will not change.
Local property organisations and owner collectives have called for property owners and communities of owners in these areas to submit appeals to the municipal government. Here at Cárdenas Real Estate we encourage owners to do this, ideally via their complex's communidad of owners. However, there is no reason for panic because even if de-facto residential complexes remain touristic, owners' residential rights at would be vested.
There have been reports of fines and even seizures of property if owners continue to live in touristic complexes. However, this is not in the plan nor is it the intention of the Mogán Town Hall. Concerns about fines stem from previous laws passed since 2013 by the Canary Islands Parliament which do not reflect the modern day reality of Gran Canaria's resorts. These laws could potentially affect the rights of property owners in Gran Canaria in the following ways…
The classification "touristic use" only comprises touristic establishments (hotels and aparthotels), run by a single operator.
By not recognising the property use category of second residence because it is not compatible with touristic use.
The problem does not come so much rom the PGO proposal from Mogán Town Hall but more from higher levels of government and laws that must be modified by the Canary Islands parliament. A local property owner organisation, called the 'Plataforma de Afectados por la Ley Turistica' or PALT has spent years campaigning for property owner rights in Gran Canaria's resorts and we believe that it is a valuable source of pressure on the authorities and well worth joining.
While PALT's public announcements can be a little alarmist this is part of their strategy to mobilise local property owners and increase its membership and effectiveness.
As a property owner affected by the rules, what can you do?
If you own a property that is not in touristic exploitation (rented out on a short-term basis through a single operator) in any of the pink areas of the map linked above, it could be in your interests do the following…
1) Join PALT as your membership fees allow it to continue to represent the interests of property owners, maintain pressure of the authorities, promote changes to the law, and appeal against new laws, etc. Membership can be individual although we believe that joining via your communidad of owners is most effective.
2) Submit 'alegaciones' of appeals against the current draft general plan presented by Mogán. The time period for this has been extended until October 20th , 2021. Talk to the administrator to do it via your comunidad.
To submit an appeal as an individual, these are the best options…
Join PALT and it will help you to submit an appeal.
Or contact the lawyers at Ceballos & Lopez in Arguineguin and they will help you for a reasonable fee.
The plan is currently open to public consultation and public comments and appeals will then be considered before Mogán moves forward. It will also likely be subject to legal challenges and further modifications. There is also some doubt about whether the entire plan is viable in its current form and compatible with pre-existing regulations.
The final solution will not be as a result of this plan being approved or rejected, Instead it will be in the long term and so it is important that property owners' rights are represented and their opinions heard by the authorities, ideally via their communidad of owners.