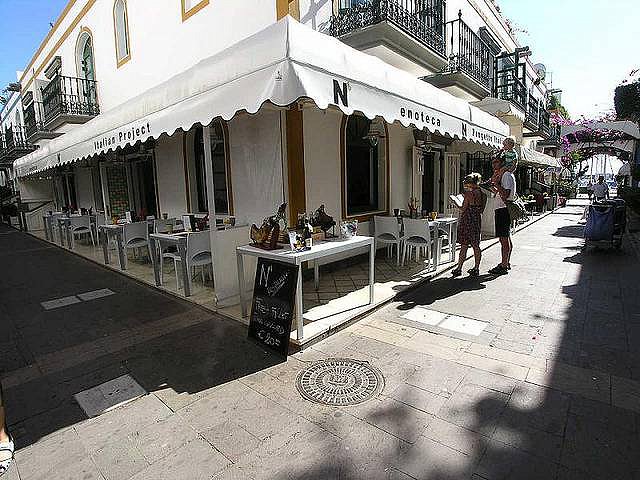 [caption id="" align="alignnone" width="570"]
Nenoteca, Puerto de Mogan[/caption] For nearly 24 years I have come to Mogan-Playa regularly more than once a year to spend some time with my sister who's been living on the island for all those years. I really thought that I had seen it all, especially regarding the restaurants.
This November however we got really surprised.
We had a meal at a restaurant which just opened some months ago, situated in a quieted corner of a little back-alley of Puerto Mogan. They serve Italian food - NO - don't think: "Oh, another of these". It's called "N'enoteca" and the owners,
Greta and Alessandro, come from the region of Le Marche in Italy. They are authentic as well as the food they serve
. Everything is homemade and gets prepared after you have placed your order. The prosciutto is divine,the tagliatelle are just perfectly "al dente", the sauces are pure heaven and the meat is absolutely delicious. If you wish, Alessandro will serve you every wine he's got on the menu per glass. To finish it's a big "MUST" to have dessert. As desserts are homemade as well you think you are in heaven. I live in Switzerland and we have got very good Italian restaurants, but believe me, Alessandro's and Greta's "N'noteca" is just superb, also regarding the prices, as they are really very reasonable, too. So, then in Mogan, go there and you'll have a wonderful meal while spending some quality-time in this little quiet alley. By Marianne, Theresas sister