14 Mar 2019
New Tourist Rental Vote Delayed After Outcry
Published in News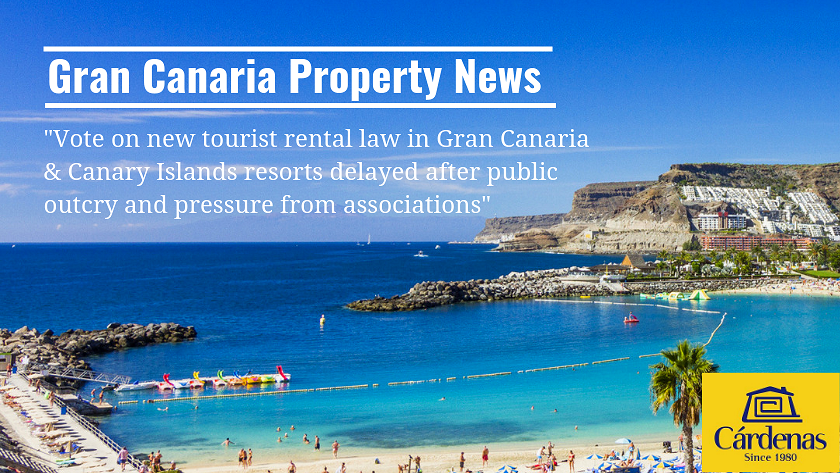 Public outcry and pressure from associations and groups of concerned citizens has delayed a vote in the Canarian parliament about a controversial new law governing holiday rentals.
The new draft law, known as PL-0005, tried to make it illegal to rent out private property in resort areas of the Canary Islands. This is despite judgements from both the Canarian and Spanish Supreme Courts that ruled such a ban to be against the law. The contents of PL-0005, which originally had nothing to do with holiday lets, emerged over the weekend with a vote originally due this week in the Canary Islands Parliament. However, vigorous action by consumer associations the Asociación Canaria del Alquiler Vacacional (
ASCAV
) and Plataforma de Los Afectados por la Ley Turística (
PALT
), plus a strong reaction against the draft law by the real estate industry and the public, have delayed the vote. You may well wonder how such a controversial draft law was kept quiet for so long. The answer has a lot to do with the local and national elections coming up this year. Politicians are already competing for press and voter attention and there is a strong element of political posturing in the contents of PL-0005. It is very encouraging that lobbying from ASCAV, PALT and the real estate industry forced a delay so fast. It shows that politicians have to take private property owners' rights and interests into account when drafting new laws about holiday rentals. Ascav has already said that it will appeal to the courts if PL-0005 ever becomes law because it is a clear 'blow against the rights of the small owners of bungalows and apartments'.
As always, we'll keep you posted about any new developments on this story or on any other news stories that affect property owners in Gran Canaria.