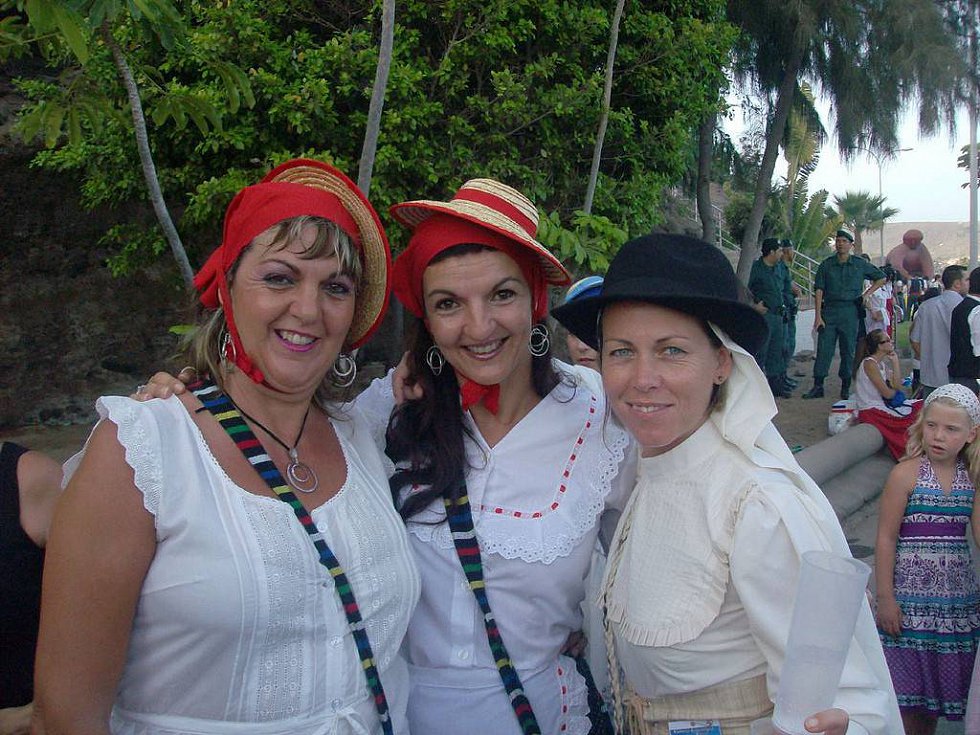 Although the fiestas here in Arguineguin started last weekend we all got a little carried away with the world cup and forgot to inform you all of the program of events!
The Romeria (offering to the Virgin Carmen) was held on Saturday; thousands dressed in their Canarian costumes and joined in the fun including Lonnie, Leonor and myself. The Pilgrimage floats set off from the market square at roughly 7pm passing through the streets to the church square where the offerings were made.
Here is the program for the rest of the fiestas that will finish on Sunday.
Wednesday the 14th of July
21:00 h
Children's Theatre company "Barullo" presents Pinocchio
Location: Plaza de las Marañuelas
21:30 h
Scala en Hifi for adults
Location: Plaza de Las Maranuelas
Thursday the 15th of July
19:00 h
Traditional Children's Games and Typical Canarian Food Contest
Location: Playa de las Marañuelas
21:30 h
Tribute to Expedito Oliva Segura, photographer of the Municipal followed by popular music from the group "Encanatadores".
Location: Plaza de las Marañuelas
23:30 h
Open-air dance with "Güira Latina"
Location: Plaza del Mercadillo (market square)
Friday 16th July - Dia de Nuestra Senora del Carmen (Bank holiday in Mogán municipal)
11:00 - 14:00 h
Ludo Children's Park
Location: Plaza de las Maranuelas
12:30 h
Tribute to the elderly of 75 years +
Location: Club 3ª Edad La Jaca
19:00 h
Mass and Procession accompanied by "Banda Barrial"
23:00 h
"El Carmen 2010" Concert – "Salvapantallas", "Foncho" and "DJ Promasterâ€
Location: Chiringuito Zone
00:30 h
Open-air dance with "Caracter Latino"
Location: Plaza del Mercadillo (market square)
Saturday 17th July
18:00 h
Bajada de la Rama (water fight) with the bands Gran Canaria and Barrial
Leaves from: Plaza de Pino Seco
23:00 h
Open-air late night dance with Orchestra "Banda Joven" and "Primera Linea"
Location: Plaza del Mercadillo (market square)
00:00 h
Fireworks Display
Sunday 18th July
10:30 h
Eucharist followed by the Virgin del Carmen Maritime Procession where the Virgin is taken to Puerto de Mogán by boat.
20:00 h
Theater presented by the "Taller de teatro Los Pescadores de Arguineguin" followed by the rope dance with the folklore group "Los Parranderos del Sur"
Location: Plaza de las Marañuelas