23 Mar 2020
Remote Work Is All In A Day's Work At Cárdenas Real Estate
Published in Buyer tips, News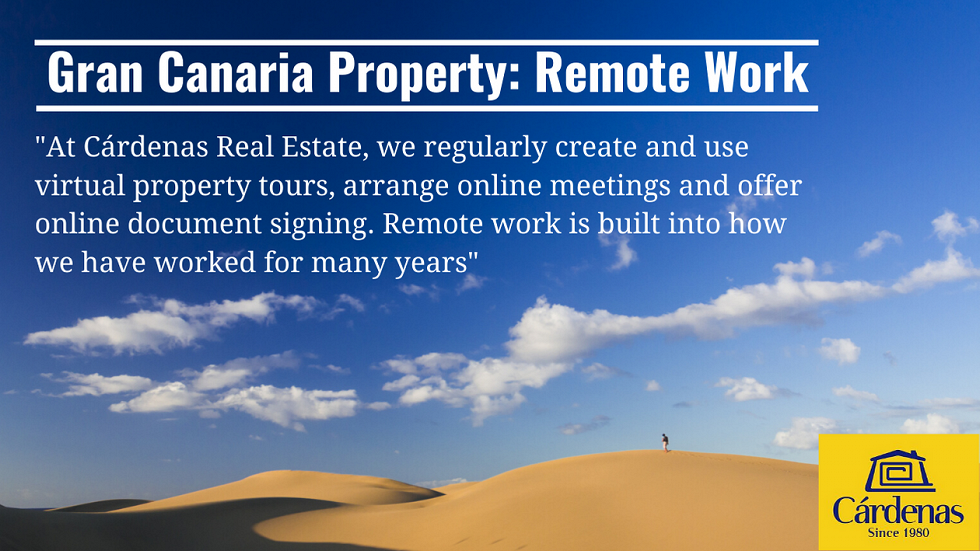 At Cárdenas Real Estate we know that our team is our biggest asset. We are the best trained and probably the most experienced estate agents in south Gran Canaria and our agents speak ten European languages.
However, the Gran Canaria property market involves buyers and sellers from all over the world. Often, the people involved in a transaction are not present on the island at the same time. This has given us huge experience with the most effective remote and online tools.
We regularly create and use virtual property tours, arrange online meetings and are able to offer online document signing.
We use technology to make our clients' experiences as safe and straightforward as possible, no matter where they are when they need our services.
Online and remote services for buyers
Since we know that many of our buying clients start their property search online, we create 3D tours of all our properties. These allow you to get a real feel for a property before choosing which ones to visit in person.
We also create 360º views of an increasing number of the properties we sell in Gran Canaria. These, along with 360º aerial views, give a detailed impression of the location and feel of a property.
Online meetings are an excellent way for our agents to talk directly to you and guide you through a property in real time. This also mean you can discuss documents and receive information while our agents are there to answer your questions.
As a professional agency, all our market reports and valuations are created with the best available software and are all available in electronic format.
At Cárdenas we also offer a detailed breakdown of all the costsyou can expect when you buy any property in Gran Canaria.
Online and remote services for sellers
One-to-one online meetings mean that you can discuss a property sale with our specialist selling team from anywhere. We can show you marketing plans, documents and contracts in real time.
Our valuations are created with the latest and most accurate figures available online and with market-leading software. They are available as electronic documents and we can always go through them with you virtually. The same goes for our breakdown of the costs of selling a Gran Canaria property.
At Cárdenas, our specialist legal department is always available to advise you about any legal or fiscal questions you have.
Leading with technology
Cárdenas is a tech-forward estate agency thanks to Ramón who has an information technology degree. He has led the marketing and technology department since 2001.
We were one of the first estate agencies in the Canary Islands to have a website, to list all our properties online and to offer an online document signing service. We still lead the way in terms of technology.
Our team of agents, equipped with the latest-generation of secure laptops, is able to access documents remotely in a secure way via the cloud. All our software is online and therefore automatically updated and secure.
Thanks to our advanced know how, we are able to react to new technology and online trends quickly and efficiently. This allows us to offer the best possible service to our clients at all times.
Remote work is nothing new to Cárdenas Real Estate. It is built into how we have worked for many years thanks to our early adoption of the internet, online meetings and the cloud.