05 Sep 2018
Selling Gran Canaria Property: 10 Reasons To Choose Cárdenas
Published in Seller tips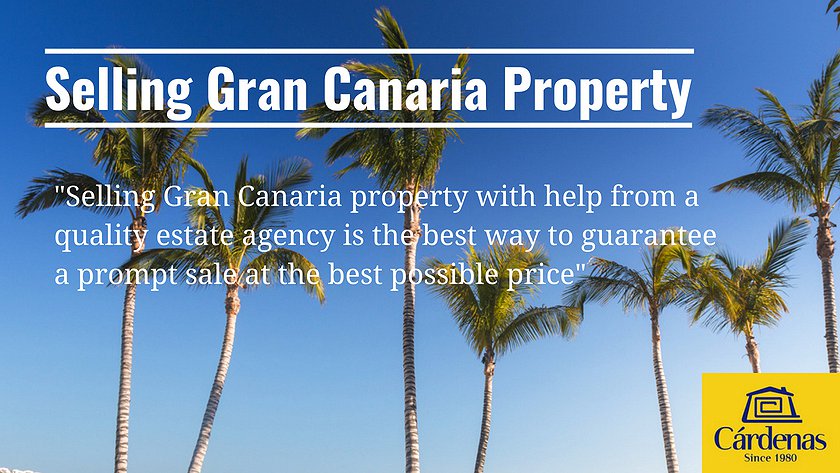 Selling Gran Canaria property with help from a quality estate agency is the best way to guarantee a prompt sale at the best possible price.
At Cárdenas Real Estate we offer the best possible service and most complete promotion of your property to the widest selection of buyers.
Here are 10 good reasons why you should talk to us if you are selling Gran Canaria property…
1. We know the market and what it takes to sell a property
At Cardenas Real Estate we have over 37 years of experience in south Gran Canaria and have sold over 1000 local properties. We get the initial asking price right with an accurate professional market study
We carry out an accurate market study for every property we list thanks to detailed information from the "Boican" shared property database.
This means that your Gran Canaria property goes on the market at an accurate price and generates plenty of interest.
2. We get your property in front of buyers with a tailored marketing plan
Our website is the most-visited real estate site in Gran Canaria and we have an email list of serious buyers waiting to hear about your property. Furthermore, by putting your property into the shared property database, we make sure that every other quality Gran Canaria agency shows it to their clients.
We also take the time to list your property on all the effective national and international portals. This makes sure that as many buyers as possible consider it.
From long experience, we also know that there is more to selling a property that the internet.
Our five Gran Canaria offices are in busy areas of south Gran Canaria.
We even offer a viewing trip service to buyers. Our clients can fly out to Gran Canaria and see the best available options before they buy.
Here's what we offer you as a Gran Canaria property seller…
3. We make your Gran Canaria property stand out online
Most buyers start their Gran Canaria property search online and rely on photos for their first impression. It is therefore vital that your property looks good on the internet.
We use professional dSLR cameras and trained photographers to make your property look good and to show buyers whether it is what they are looking for.
We also work with quality local home-staging and refurbishment professionals. Their services make sure your property looks its best and appeals to the right kind of buyer.
This attracts serious buyers and means that you stand the best chance of selling at the right price.
See examples of how we list Gran Canaria property on our website.
4. We protect your money
Cárdenas is one of the few Gran Canaria estate agencies with professional surety and deposit liability insurance. This means that any money we take as a deposit from a buyer is completely safe. Also, buyers are confident about making offers with us.
5. We take you through the sale process
With a specialist legal department that focuses on Spanish property law, we help all buyers and sellers to understand the entire sale and purchase process.
We provide all buyers and sellers with a complete breakdown of costs. And we check all documents and contracts before they are signed.
6. Complete transparency throughout the selling process
This is a vital part of the sales process as it avoids any misunderstandings and means that your property sale is smooth and safe.
We insist that all buyers and sellers understand all aspects of the sale process and all documents that must be signed. We also explain all fees and costs associated with buying and selling a Gran Canaria property.
This guarantees that everyone involved feels completely comfortable with the whole process.
7. After-sales services
As a property seller, you have several legal and financial obligations under Spanish law. Many of these, including inheritance tax and capital gains tax, changed in 2015 and 2016.
Our legal and financial department is always up-to-date with these changes. We make sure that you fulfil all your obligations and benefit from any changes that reduce your tax burden.
8. We can advise you on reinvestment
EU and most EEA citizens can reinvest the proceeds of a Gran Canaria property sale within two years and avoid all capital gains tax. At Cardenas, we list an excellent selection of the island's best investment properties and have a thriving long-term property rental business.
If you are selling Gran Canaria property and wish to reinvest the proceeds, we are happy to advise you with no obligation.
9. We make it easy for sellers and buyers
With 37 years of experience selling Gran Canaria property, we have unparalleled local knowledge about the market and how to position your property to appeal to buyers.
And our highly trained staff speak nine European languages so we can help who is interested in your property.
10. Excellent reputation with more than 550 testimonials online
We are south Gran Canaria's most recommended estate agency with over 550 client testimonials published on our website.
As a seller, it's important to know that your property is in safe, professional hands.
Selling Gran Canaria property with Cárdenas Real Estate
If you plan on selling your Gran Canaria property, please feel free to contact us. One of our specialist sales agents will happily answer all your questions.