07 May 2019
Selling Gran Canaria Property: Choosing The Right Agency
Published in Seller tips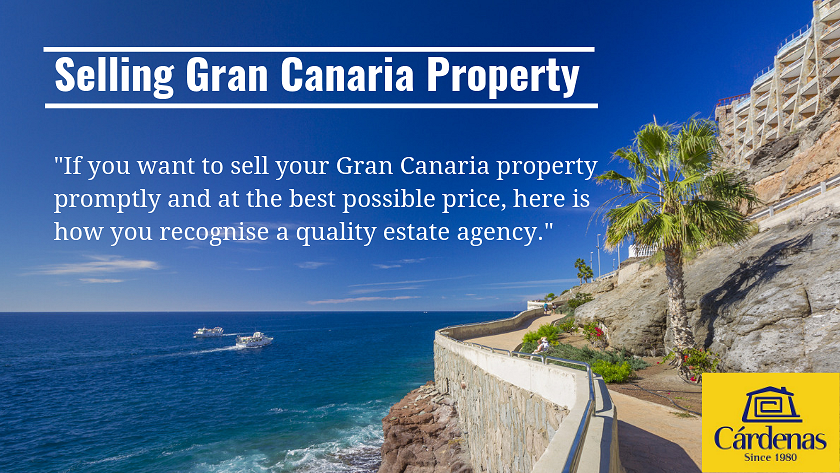 So, you've decided to sell your Gran Canaria property and now you are wondering how to choose a good estate agent.
It's an important decision as picking the right agency has a big impact on the sale process and on both the speed of sale and the price you get.
If you want to sell your Gran Canaria property promptly and at the best possible price, here is how you recognise a quality estate agency.
Has a well-located and high visibility office or offices in popular areas of Gran Canaria. This increases their name recognition and the number of people who will see your property listing in the window.
Has an attractive, easy-to-find and easy-to-navigate website that is available in the most important buyer languages for the Gran Canaria market (English, Spanish, German and Norwegian).
Has a good online presence and social marketing platform (active Facebook page and social media accounts).
Carries out a thorough market study to make sure you put your property on the market at the right price.
Is a member of the Gran Canaria shared property database or BOICAN, allowing it to share your property with other quality agencies and multiply its exposure to buyers.
Offers you professional photography of your property to make sure that it stands out online and in print and attracts maximum interest from buyers.
Offers after-sales services such as helping with utility bills, and can help with local bureaucracy and tax filings.
Inspires confidence; You want your Gran Canaria estate agent to be completely transparent and answer ANY questions that you have.
Has many years of experience in the sector.
Has a good reputation in the sector and a large number of published customer testimonials to prove it.
Getting the sale price right from the start
Selling a property in Gran Canaria often depends on getting it priced and marketed right. This avoids having your property sitting on the market without getting the attention it deserves.
To achieve this, a good estate agency must offer a comprehensive service to property sellers, including:
Free inspection and evaluation of your property
Accurate advice on sale price based on size, area, property type and market conditions.
Professional Gran Canaria property sales services
A property attracts buyers and ultimately sells when it is displayed and photographed well. Your property deserves the following sales services:
Home staging advice and services
Professional photographs
Local Gran Canaria Marketing Plan
Quality agencies get your property in front of potential buyers when they are in Gran Canaria. You should expect the following local marketing:
Digital and paper display in well-located agency windows
A colour brochure in several languages
Advertisement in local publications and websites in several languages
Online Marketing Plan
Most buyers research their options online so your agency must have a wide presence on the internet.
Good agencies have the following:
Website in several languages and high (front page) Google rankings
A presence on specialised property portals in Spain, UK, Norway, Germany, etc
A large database of buyers that see your property via email as soon as it is listed
An attractive online newsletter and/or blog that attracts buyers
The best Gran Canaria estate agencies list their properties in the BOICAN shared property database. This means that it gets huge exposure:
Other estate agencies also in the BOICAN market and advertise your property
Large numbers of buyers see your property via the BOICAN search
International marketing plan
A huge proportion of Gran Canaria property buyers are foreign and they begin their search from home.
Presence in specialist international property publications
Tax & legal advice in Gran Canaria
Quality Gran Canaria estate agencies offer comprehensive legal and tax advice to sellers, including…
Legal and tax assistance during the sales process
Personalised calculation of all sales costs and taxes
Multilingual contracts
Assistance and advice on Spanish inheritance law and wills.
At Cardenas Real Estate we offer the most comprehensive property selling services in Gran Canaria and have vast experience; we've sold over 1300 south Gran Canaria properties.
Selling a Gran Canaria property? Contact us for our free property inspection and evaluation and one of our agents will explain the entire sale process.