20 Jan 2022
Selling Gran Canaria Property: You Have 10 Seconds So Make Them Count
Published in Seller tips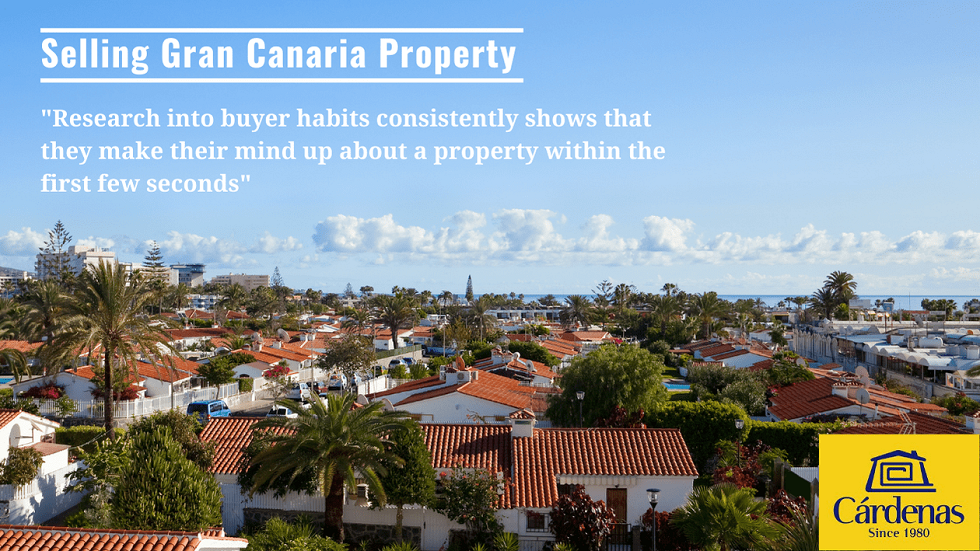 Research into buyer habits consistently shows that they make their mind up about a property within the first few seconds of seeing a property. What this means is that first impressions really count.
Potential buyers form emotional decisions about a property during their visit. These start as soon as they see it, and continue throughout their tour. Buyers react to each area and the overall impression they leave with is the sum of their impressions.
This means that you have a series of short opportunities to make sure your property sticks in the minds of all potential buyers. It's vital to make those seconds count.
In a recent study, 84% of buyers think the most important thing about a property is how it makes you feel when you walk through the front door. 76% think that first impressions are everything when viewing a house.
The first impression starts with the photos
These days a buyer's very first impressions of your property almost always comes from the photos and/or video tour they find online. This is why the photos have to make your property look at its best. In Gran Canaria this tends to mean bright, spacious and with a focus on outdoor spaces and views. If your photos don't show off your property at its best, you risk missing out on viewings and a sale.
These days, bright, undistorted photos of every room and all outside areas are the standard. Most buyers really appreciate a three-dimensional tour or walk-through video that gives them a good idea of distribution and feel.
See your property though buyer's eyes
Walk through your property and note down the first impressions of every area. Does the entrance look well-maintained and welcoming? What is the first thing you feel when you walk into a room? Could you improve that feeling by removing items, or rearranging the furniture? Is there anything that would be easy to fix that could make a buyer worry?
Approach every room from this perspective; how will a buyer feel when they first walk in?
If the first thing they see is overbearing, excessively personal or just feels wrong for the space, consider moving or removing it.
Details matter so look after them
A small patch of damp from a long-resolved problem, or peeling paint on the facade. These little things affect first impressions because they make buyers wonder if there are more problems hiding somewhere else. Small problems are best fixed.
Note that we do not advise fixing larger problems in a cosmetic way to stop buyers from seeing them. Any serious problem with a property must either be fixed properly or declared to potential buyers.
We also do not always recommend investing in new kitchens of bathrooms prior to a sale. These options must be considered on a case-by-case basis to see if they are worth the investment. The funds used on a new kitchen can often be used instead for other improvements that have a larger overall effect on the sale-ability of a property.
Outdoor areas are important and almost always must be improved
Patios, gardens, terraces and other outdoor areas make a large impression on buyers. However, they are often neglected in Gran Canaria, especially by holiday home owners who aren't able to look after them throughout the year.
To make your property stand out, both in photos and during visits, decorating your outdoor areas produces large rewards.
Install solar lighting, refresh or replace outdoor furniture, invest in new plants and decorative items, and make sure that outdoor areas are painted and looking at their best.
Selling a Gran Canaria property
At Cárdenas Real Estate we put a lot of thought into exactly how to sell every property that we list. It's one of the reasons that we are south Gran Canaria's leading estate agency and have been for over 40 years. 
If you have a Gran Canaria property and are thinking of selling, please feel free to get in touch for a valuation, or download our Complete Guide to Selling a Gran Canaria Property.