16 Sep 2021
The Importance Of Purchasing Gran Canaria Home Insurance
Published in Buyer tips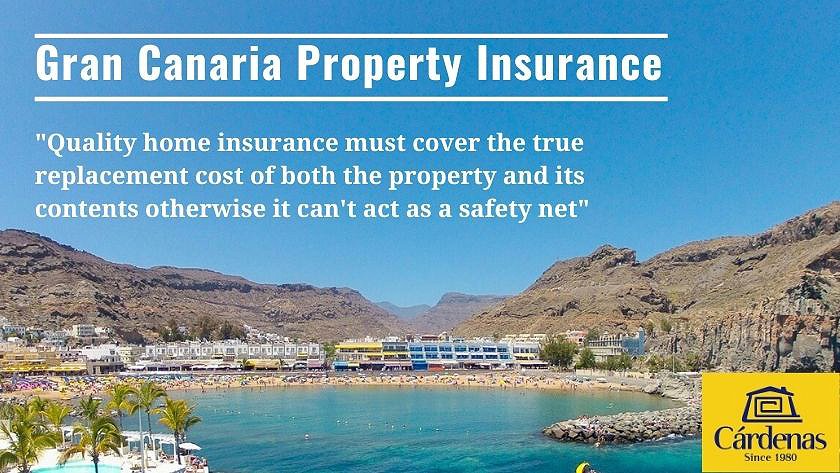 Home insurance provides you with peace of mind and security by protecting your initial property investment, and your valuable and valued personal possessions.
At Inmobiliaria Cárdenas we explain the importance of taking out a quality home insurance policy for a Gran Canaria property.
The essentials of a Gran Canaria home insurance policy
While incidents are rare we often own property for many years, making insurance a necessity at some point. Here are the most important things to include in your home insurance policy in Gran Canaria.
Home insurance must cover both the cost of fire damage and any costs associated with putting out a fire such as the costs of water damage to adjoining properties.
Weather damage: Quality insurance covers the costs of any damage to property and its contents caused by adverse weather such as strong wind, rain, etc.
Theft: Insurance must cover both the cost of replacing any stolen items plus the costs of repairing any damage to the property that took place during the theft; such as replacing windows, locks, etc.
Material damage: Coverage for material replacement costs for common events such as broken windows, minor water damage to bathrooms, etc.
Civil liability: This is an essential component of comprehensive home insurance that covers the owner for any injury or cost caused by the property. This includes things like water damage to a neighbour's property and injury to third parties caused by falling objects, etc.
Legal costs: Insurance should cover reasonable legal costs associated with a property such as disputes with neighbours and other third parties.
Repair services: A useful option included by some home insurance companies that covers the cost of replacing or repairing large devices such as washing machines and fridges.
Coverage for non-payment of rent: For rental investors,  this covers the costs associated with non-payment of due rent plus the costs of any damage caused by tenants to the property and/ or its contents.
What to consider when choosing home insurance
When choosing home insurance to suit your needs, consider  both the property  (known as 'el continente') and its contents ('el contenido').
In Spanish insurance documents, el continente covers the entire property while el contenido is all the belongings within the property such as furniture, possessions, decorations, jewellery, etc.
Quality home insurance must cover the true replacement cost of both the property and its contents otherwise it can't act as a safety net in case of an incident. On the other hand, over insuring a property and its contents just means that you pay more than you need for comprehensive protection.  All these things in their proper measure, it is useless to underestimate the content and the continent because if in the future we have an accident, the compensation may not cover what we have really lost.
Home insurance is  therefore a product that is highly individual and must be designed and priced to suit your exact needs. You must also factor in the type of property to be insured as policies vary depending on whether your property is a residence, second home, or rental investment. For example, insuring large electrical devices such as fridges allows you to get them repaired fast and keeps tenants in a rental property happy.
Banks insist on a home insurance policy if you buy a property with a mortgage in Gran Canaria. However, they cannot oblige you to use their in-house insurance policy as a condition of making you a mortgage offer.
For property owners with no mortgage home insurance is not obligatory in Gran Canaria although we hope this article makes its advantages clear.