19 Jul 2018
The Ultimate Guide To Selling a Gran Canaria Property
Published in Seller tips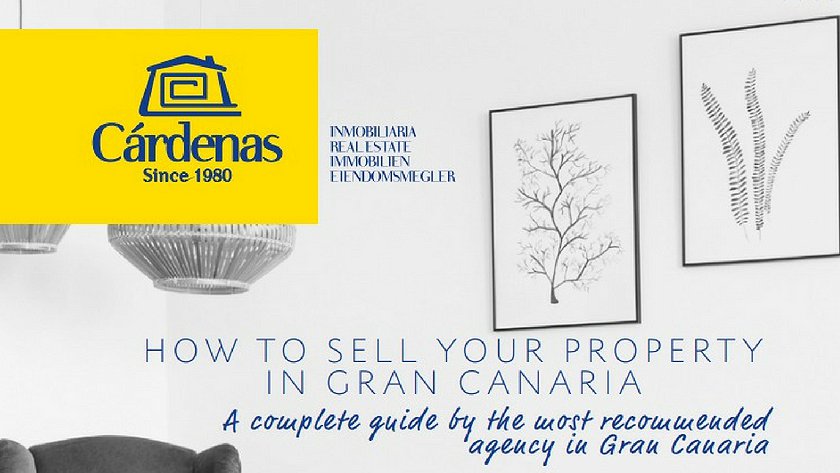 If you plan to sell a Gran Canaria property, the first thing you need is all the relevant information in one guide. That is why we at Cárdenas Real Estate, as south Gran Canaria's leading estate agency, have produced a complete guide to selling Gran Canaria property.
Our guide, in handy PDF format, tells you everything you need to know about selling your Gran Canaria property promptly and at the best possible price.
How to sell a Gran Canaria property
Our 32-page guide takes you through the entire process of selling a Gran Canaria property. It contains all the knowledge we have accumulated from over 38 years of experience in the Gran Canaria property market.
The guide starts by taking you through the process of deciding to sell a property.
It then considers the five vital factors when selling your property, and the five biggest mistakes that Gran Canaria property owners make when they sell.
The guide then covers the process of preparing a Gran Canaria property for sale, setting the right prices and whether home staging is appropriate.
Then, it discusses the difference between an active sale and a passive sale and which one is most advisable.
Our guide also takes you through the paperwork you need to do to get your property ready for the market.
It also gives you all the information you need about receiving an offer and negotiating the sale.
Useful information for all Gran Canaria real estate sellers
The Cárdenas guide to selling Gran Canaria real estate is a useful resource for all owners.
For first-time property sellers it is a complete guide to the process. For experienced property owners it contains the latest information on Gran Canaria property paperwork and taxation.
Download the ultimate guide to selling your Gran Canaria property
This value-packed guide, valued at €24.50, is available for free as a handy PDF file that you can read on any device.
Download the Gran Canaria property sale guide here.
Selling a Gran Canaria property?
We are south Gran Canaria's most recommended estate agency with a staff of over 30 professionals and five offices. We believe in quality service and complete transparency and are always available to answer any questions you have.
Plese feel free to contact us at any time and one of our specialist property sales agents will be in touch straight away.