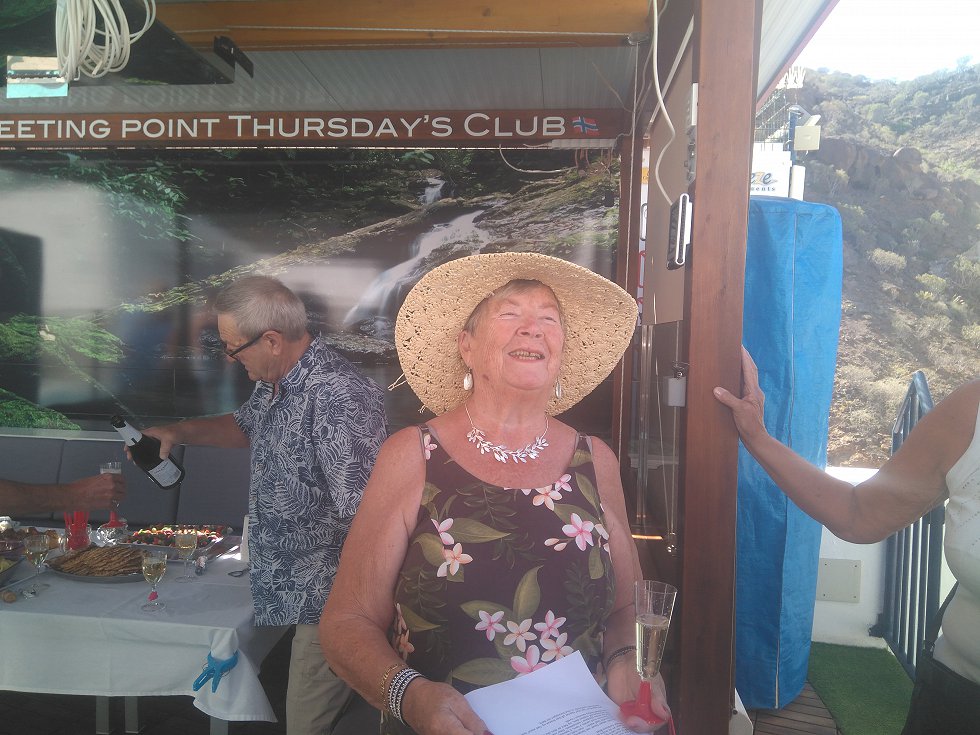 In our Sea Breeze complex here in Puerto Rico, today's birthday song will be sung very loudly to our regular tenant Berit. She is no less than 80 years old today!
For 40 years, Berit Irene (and her husband Bjørnar) owned and ran a yarn and fabric store outside of Tønsberg. "In fact, I would have preferred to have a flower shop, but coincidence meant that I ended up selling kilos of yarn and fabric throughout those years". And all this without knowing anything about it when she started out! Over the years they have also had time to travel and live life. She and her husband have travelled to many places. Trips have taken them to Greece, Thailand and Hawaii, and before making the decision to stay in Gran Canaria, they also went to Tenerife and Lanzarote. Their first trip to Gran Canaria took them to the Porto Novo complex in Puerto Rico, where large cockroaches made a huge impression on Berit! However, it was another small animal (or lack of it) that would do the trick, Berit discovered that there were no mosquitoes on the island, and since then they have celebrated more than 25 years of holidays in Gran Canaria. Today they live as permanent tenants in Cardenas Sea Breeze complex in Puerto Rico, and have done so since 2015. Berit has recently undergone cardiac surgery in which a heart valve has been changed. Before that, she wasn´t able to move too well thus making walking to the centre and in the mountains to the back of Puerto Rico difficult, however after surgery she is now well enough to enjoy those walks although they both enjoy even more a drive up in the mountains where they contemplate the beautiful landscapes of the island. They have also ensured that some of the other guests at Sea Breeze have made their first excursions outside of the tourist areas. Today´s special Birthday is celebrated around the Sea Breeze pool, not with the traditional cake, but with hot waffles and coffee. They are not celebrating with their 3 children, 6 grandchildren and great-grandchild, but with the other guests of the complex. After many years as neighbours, there exists a great relationship between them, and several of them will also be going out together for dinner tonight.
On behalf of the "small" Sea Breeze team and the "great" Cárdenas team, we congratulate you on your birthday, Berit.