19 Dec 2017
Top 10 Most Desirable Features Of A South Gran Canaria Property
Published in Buyer tips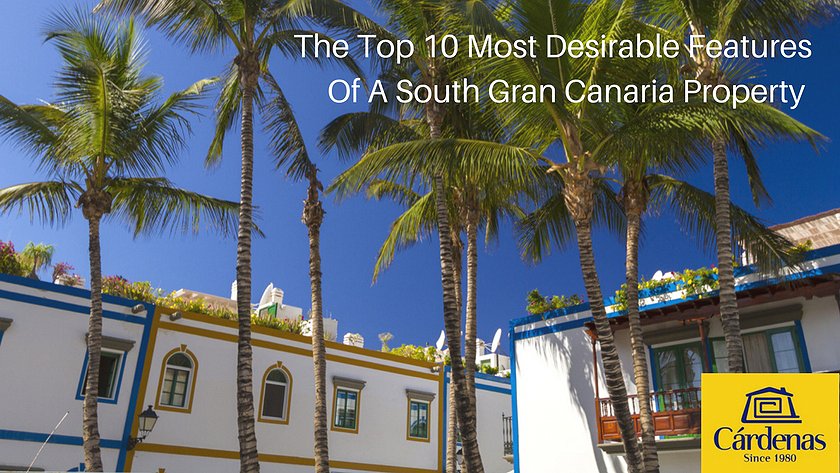 Here at Cárdenas Real Estate, we show dozens of properties to foreign buyers every week and this gives us a clear idea of the features that buyers value most when they look for a Gran Canaria property. 
When we sell a south Gran Canaria property, we know exactly what to highlight in the description to make sure that your property is as attractive. Some desirable features are generic while others are location specific and it takes years of experience to know exactly what buyers want in each area.
Here are the top ten most desirable features of a south Gran Canaria property and how they affect buyer's perceptions of your property.
Sea View
One of the big attractions of buying a property in south Gran Canaria is a sea view. There's just something about being able to look out over the ocean that makes people relax and feel happy.
Buyers value a sea view and properties with an uninterrupted vista of the ocean tend to sell at a premium even if they are not right by the shore.
If your property has a good view, it is often worth putting in large windows to take advantage of this desirable feature.
Parking space or garage
A parking place makes a south Gran Canaria property more attractive to many buyers because nobody wants to spend their holiday driving around looking for somewhere to leave their car.
A lock-up garage is particularly popular because it doubles up as a place to leave outdoor equipment (anything from surfboards to a BBQ). However, even a private outdoor parking place makes a property more attractive to buyers.
If your property is in an area where street parking is easy, it is worth highlighting this in the description.
Sunshine
One of the big draws of owning a property in south Gran Canaria is the warmth and brightness we get from the sunshine. Buyers always check to see how much sunshine a property gets and when in the day it is exposed to the sun.
For example, in Puerto Rico resort, Scandinavian buyers favour properties that get the sunshine in the morning rather than in the afternoon. They want to wake up to the warmth and have their breakfast bathed in light.
This means that West Hill properties in Puerto Rico tend to be more popular amongst Norwegians and other Scandinavian buyers than East Hill properties.
Outside space
Almost all foreign buyers look for south Gran Canaria property that has some outside space such as a balcony or terrace. However, because many buyers don't spend all year in Gran Canaria, they do look for outdoor areas that don't need regular maintenance.
The most popular outdoor areas are sunny balconies with room to sit out in the fresh air, terraces that get the sunshine and are big enough for loungers, and patios that are not overlooked by the neighbours.
Garden areas are also popular but many buyers look for gardens that are communal because they know that they will be looked after all-year-round. A large private garden in a holiday home can be hard to maintain if it needs watering and pruning regularly and buyers do take this into account.
BBQ or outdoor cooking area
Outdoor space has to be functional as well as attractive and one thing that lots of foreign buyers like to see is an area where they can cook outdoors. This can be a BBQ (most in south Gran Canaria are gas-powered) or even a covered area where they can use a grill. If you have a large property, a pizza oven is always a popular feature.
It is always worth checking with your neighbours and the communidad (neighbour's association) before installing a BBQ or outdoor oven because some places don't allow them.
Swimming pool or hot tub
Swimming pools are always popular with buyers but are similar to large gardens in the eyes of holiday home buyers. Many prefer a communal swimming pool to a private one because they don't need to worry about maintenance while they are at home.
Hot tubs or outdoor jacuzzis are popular for the same reason; they can be used and then left without needing too much work or maintenance.
Walking distance to beach
South Gran Canaria property that is close to the beach is always popular with buyers even if it doesn't have a direct sea view. Most are looking to buy within easy-walking-distance of the sea and prefer property that is between the main road and the sea so that they don't have to worry about traffic.
If your property is close to the ocean, say so in your description and give the exact distance and route to the sea so that buyers know exactly what to expect.
Access to local amenities
Not all south Gran Canaria apartments are close to the sea but the location is still important. Buyers look for property that is within walking distance of local services and leisure activities; things like a shop, bakery or good restaurant.
That said, if your property is close to a large shopping centre or leisure area, it does affect the kind of buyer who is likely to be interested. Older people tend to value peace and quiet while younger buyers and those with children often choose to be closer to lively spots.
Storage
Some people come to Gran Canaria with everything they need in a suitcase and don't worry about storage. Others like to leave their possessions in their holiday home so that they don't have to carry lots of luggage. In general, some storage space is a positive feature.
Even in a small apartment or bungalow, there are always ways to increase the storage space and a clever storage solution, such as a bed that opens up, or a wardrobe with sliding doors makes a property more attractive to many buyers.
Security features & accessibility
South Gran Canaria is a safe destination with low crime rates. However, buyers do worry about leaving their property empty between holidays or guests so quality security features are a bonus.
Security blinds on ground-floor apartments and bungalows, quality locks on doors that face public spaces, and even an alarm system in larger properties make buyers feel secure. Properties that are complexes or in buildings with a reception are also attractive to security-conscious buyers.
Ease of access is also important as many Gran Canaria buyers are over the age of 55 and want to know that they can use their property for years to come. Apartments in buildings with stair-free access and/or a lift are desirable, as are properties that are all on one level once you get through the front door.
Buying or selling a Gran Canaria property?
We are south Gran Canaria's most recommended estate agency with over 30 years of experience and offices in Arguineguín, Puerto Rico and Puerto de Mogan.
If you are looking to buy or sell a south Gran Canaria property, please get in touch for a chat with one of our consultants. Or download our free, 32-page Ultimate Guide To Selling Your Gran Canaria Property.