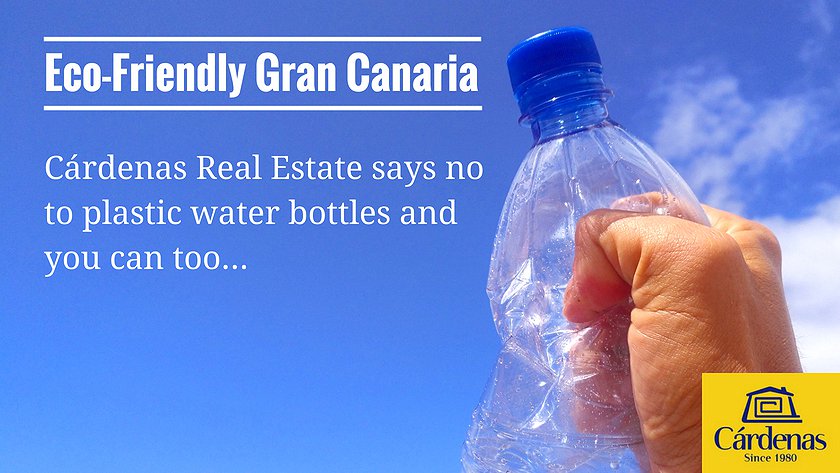 Gran Canaria water delivery is a convenient and eco-friendly way of reducing plastic waste.
The online ordering system is straightforward and reliable.
Most people in Gran Canaria buy their drinking water in big plastic bottles called garafas from the supermarket but there is a more convenient and eco-friendly way.
At
Cárdenas Real Estate
we work hard in the south Gran Canaria sunshine and our team drinks a lot of bottled water. Recently, we decided to switch to glass bottles to reduce the plastic waste that we generate. Until now we have recycled our plastic in the big yellow recycling bins but we decided that it is much better for the island's fragile environment to cut out plastic bottles completely. After a bit of research, we are happy to report that there is an easy and convenient way of getting water in glass bottles delivered almost everywhere in south Gran Canaria.
Can you drink Gran Canaria's tap water?
Most of Gran Canaria's tap water comes from desalinated water that is then treated with chlorine to purify it. It conforms to EU drinking water standards but has a strong mineral and chlorine taste. Most locals and residents use it to cook, shower and brush their teeth as it is perfectly safe. However, they choose bottled water to drink because it has a better flavour. However, most water bottles in Gran Canaria's shops are plastic and carrying the glass options home is inconvenient. This makes Gran Canaria water delivery an excellent option.
Online water delivery in Gran Canaria
The Aguas de Firgas company offers home delivery of water bottles via a
simple online ordering form
. You can order crates of water in glass bottles and also big plastic water bottles.
Aguas de Teror
offers a similar online service but their website is a little harder to use as it doesn't show prices or images of the products. The company collects the glass bottles and reuses them which makes it a much more convenient and eco-friendly way of buying water in Gran Canaria.
Gran Canaria water delivery with Agua de Firgas
The online order form is in Spanish but is very easy to understand and use. The first thing you see is a box that asks for your postcode to make sure that you are in the delivery zone. All main south Gran Canaria towns and resorts are covered. Then you see a list of products that you can order. An eight-litre garafa of Vitalia brand water costs €1.25 (0.16 cents per litre) which is about the same price as you pay in a big supermarket. A crate of 18 0.75 litre glass bottles of still water costs €4.86 (0.36 cents per litre). The glass bottle options have the word "cristal" in the title. Still water is called "sin gas". You can also order mineral water in glass bottles and a selection of other products such as Urban soft drinks in plastic bottles and tins, and tins of tea and tonic water. Once you choose your products, you have to fill in your details and give your address. Then you can choose to pay online with a card or to pay in cash on delivery. Soon after making the order, you get a phone call from Agua de Firgas that confirms the delivery day and time. This call is in Spanish but is fairly easy to understand. The delivery people have your phone number so if you are out when they arrive they can call to arrange a new time.
Cárdenas Real Estate is a family-run estate agency with offices in Arguineguín, Puerto Rico and Puerto de Mogán. We are proud to be south Gran Canaria's most recommended realtors and are always available to help you if you want to buy, sell or rent property in Gran Canaria.