06 Feb 2019
Important Changes To Canary Islands Holiday Home Rental Regulations (2019)
Published in Legal & Tax, News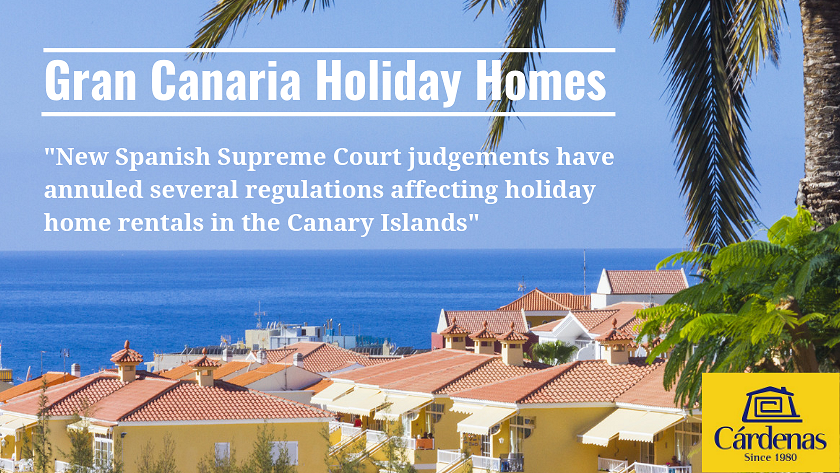 In December 2018 and January 2019, respectively, the Spanish Supreme Court issued judgments against the Government of the Canary Islands regarding the current regulation of holiday homes. These judgments cancel the following three rules of said regulations:
1) Prohibition of holiday rental homes in tourist areas
This ban has been annulled in a very clear and concise manner by the Court, for "clearly violating the freedom of businesses and the freedom to provide services, limiting the holiday offer without sufficient justification". In practice, this means that any legal home, regardless of its location, can be used for said activity. However, caution is necessary if the property is located in a tourist complex which has a category permit as a hotel or other tourist accommodation type, and in which a tour operator is operating and complying with the "principle of single management", defined in the Canarian Tourism Act of 1995. Under this principle, tourist activity in a tourist establishment has to be operated by one single company/hotel operator that has an agreement to operate more than 50% of the units of said complex. Renting a holiday home individually would go against that principle, and interpretations are unclear about whether this new case law eliminates or not the principle of "single management". We consider that the most prudent thing at this moment would be to not assign an apartment to Holiday Home Rentals if it is located in a complex where a tour operating company operates under the compliance of said principle.
2) Prohibition of partial rental of a property or "Bed & Breakfast"
An extract quoted from the second judgement states "there are no grounds on which to demand a client assumes the full costs of the lease of a whole property if their only wish is to hire a room to stay in if the owner wishes to offer them this service. In an evident way, the regulation seeks to prevent a product which because of its reduced price competes with the offers of hotel accommodation, thus harming free competition. " Therefore, the possibility exists to offer only one part of a property or one room in a property as a holiday rental.
3) Purpose of the declaration of responsibility for starting an activity
The second sentence clearly emphasizes that to enable you to start a tourist activity presenting the "declaration of responsibility to commence an activity" is sufficient enough, after which the administration (Cabildo Insular) will inscribe the house in the corresponding registers. Given that there have been delays of several months in said registration and assignment of the registration number, there was a doubt as to whether the administration had to wait for such resolution in order to start the activity. It is clear therefore that to rent a touristic property, it is not necessary to obtain any type of license (wrongly, frequently used term), the only thing you need to do is to present the "declaration of responsibility" in which the start date of the tourist activity is communicated to the Cabildo Insular. We also want to make clear that these steps are only necessary where advertising or promotion of the property is used. If you rent the property to your circle of friends or acquaintances without advertising it, there is no need to realise any formal procedures or to register the property, you only need to declare the income and pay the corresponding taxes. In conclusion, following these legal changes, you can rent your home in the Canary Islands for tourist purposes under a fairly simple and easy to comply with the regulations. However, it is foreseeable that in the near future the Government of the Canary Islands will try to tighten this regulation, introducing more requirements. These changes would only affect properties registered after any new regulation has been approved, and not the previous ones, therefore this is a good time to acquire your holiday home and register it under the current regulations.