29 Oct 2021
5 Tips For Selling A Gran Canaria Property In 2022
Published in Seller tips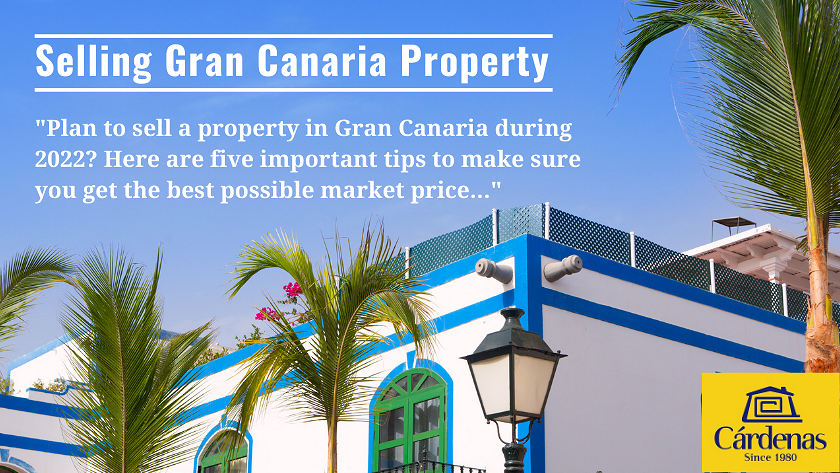 After two years with lower numbers of property sales, but not a decline in prices, tourists and foreign property owners now returning to Gran Canaria. There are plenty of reasons to feel positive about the market and there is rising demand from buyers.
If you plan to sell a property in Gran Canaria during 2022, here are five important tips to make sure you get the best possible market price.
Getting the right property valuation is crucial in 2022
Private sellers go to large real estate portals such as Idealista and Fotocasa to help value their property. They have thousands of listings and it is often easy to find a comparable property that allows you to value your own. However, many sellers forget that portals prices reflect the price owners want to achieve rather than the final sale price.
Using generic portals to value property also misses out on the many local details that affect the price point for a property in Gran Canaria. For example, factors like orientation, specific complex, availability of parking, etc all affect the value of a Gran Canaria property.
Property location data on portals is also often inaccurate as owners don't want their exact address displayed in public.
Each of these factors has a small effect but they must all be taken into account when calculating the correct market price.
A quality property valuation that includes accurate comparisons with other properties in the area is the best way of getting a prompt sale at the right price.
Finding buyers is key to getting a good offer
The more potential buyers that consider your property, the more likely you are to receive a good offer. But where do potential buyers from dozens of countries search for their next Gran Canaria property?
There are different property portals in each country and  many buyers rely on their local estate agent to keep them updated about suitable Gran Canaria property.
The key to getting yours in front of as many buyers as possible is to make sure it is advertised as widely as possible and this takes a lot of time and effort.
This only works if the property is well photographed, filmed and described as well as being correctly priced.
It then needs to be listed on the Boican and Agora MLS portals so that all other quality estate agencies in Gran Canaria see it and show it to their clients. The BOICAN alone includes 28 agencies and over 700 professional estate agents in south Gran Canaria.
The feel of a property affects its desirability
Research has shown that the initial appeal of a property has a huge impact on how potential buyers feel about it. This is something that many owners fail to take into account when selling their property. Because they feel at home in their property, they assume that all potential buyers will feel the same.
However, individual tastes vary considerable when it comes to decor, color schemes and even the amount of furniture in a space. Buyers need to be able to imagine themselves living or staying in a property and this is hard if it is cluttered or full of personal possessions.
This is especially true after a period of time when everyone has kept to their own spaces and avoided crowded spaces.
Some properties benefit from home staging while others just need decluttering. Knowing how to make a property look as appealing as possible to a wide range of people is a skill that requires experience.
Property sales depend on many factors besides finding a buyer
For every property sale that is quick and straightforward there is one that is complex. Inheritance laws, property registration rules, mortgage applications and a whole host of other potential pitfalls can stop a sale even when buyer and seller have agreed a price.
Gran Canaria property owners tend to focus on finding a buyer first, then get their paperwork in order and agree a timeframe for a sale. It is far less risky to anticipate any potential problems in advance so that they don't  come up at the last minute and stop a sale. For example, since Brexit British buyers now have to apply for military permission before they can purchase some Gran Canaria properties. The procedure is a formality but it takes time and needs to be done efficiently.
For an initial guide to selling a Gran Canaria property, see our tips for sellers on our Gran Canaria property blog or download our completely free, 32-page guide.
Talk to an estate agent before listing your Gran Canaria property
A professional estate agency with plenty of experience is always a good option when selling property in Gran Canaria. This is especially true if you sell remotely from outside Spain, or are not familiar with the language and local property laws.
At Cardenas Real Estate we believe in providing quality information to all our clients and potential clients. If you plan to sell a Gran Canaria property, come to one of our offices or give us a call and we will answer any questions we have with no obligation at all.