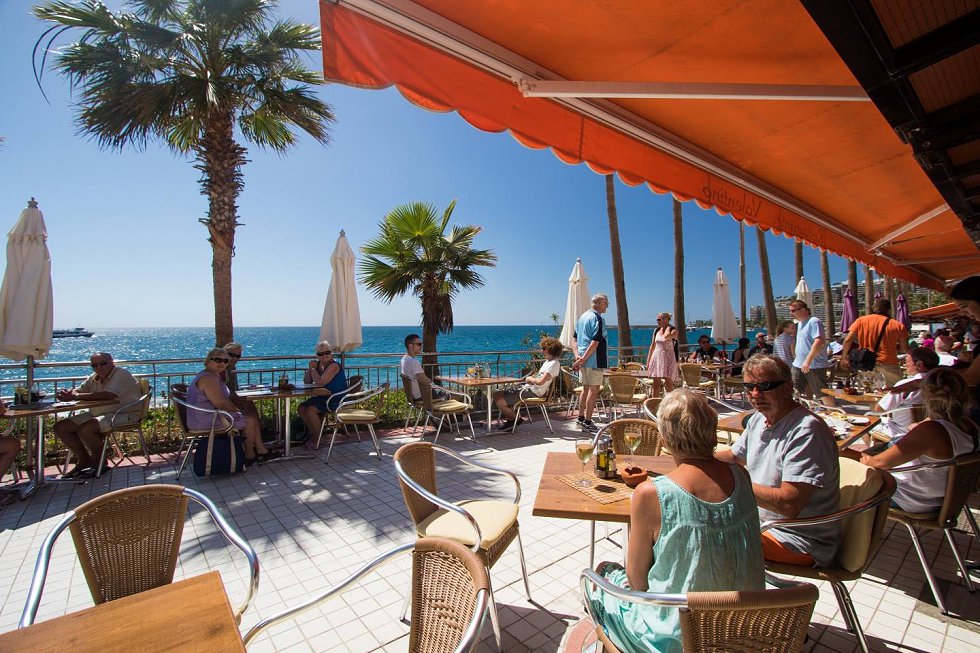 Sleepy Patalavaca has always flown just under the radar of Gran Canaria's tourists and its residents and annual visitors are happy to keep it that way. However, for those in the know, it's one of south Gran Canaria's top spots. Here are seven good reasons why …
The natural beach
Patalavaca beach is sunny and sheltered with pale, almost white, natural sand and is right by the GC 500 road that runs along the whole south coast. By rights, it should be as crowded as Anfi, Puerto Rico and Amadores just along the coast. However, the beach often only has a few dozen people on its sand and loungers and has a laid back atmosphere that belies its location. You can even park just by the beach as long as you arrive early.
Beachfront restaurants
Patalavaca beach's restaurants are shaded by palm trees and overlook the beach. There's even a convenient supermarket if you'd prefer a picnic on the sand.  And, if you feel like a walk before your meal, you can head east along the promenade all the way into Arguineguín town, or west to Anfi beach.
Sea views
Almost all of the property at Patalavaca, be it down by the beach or on the hillside behind, faces south towards the sea and gets sunshine all day long. Beautiful sunsets over the Atlantic Ocean are a local trademark.
Perfect weather
Even for south Gran Canaria, Patalavaca has great weather. It's sunny almost every day, the beach is calm and you get a lovely, cooling breeze off the ocean during the summer.
Central location
Patalavaca may be quiet but it's equidistant between Arguineguín town with all its shops, restaurants and cafes, and the bustling resort of Puerto Rico. It's also just a few minutes walk from the beach and marina at Anfi del Mar. All the buses that run along the south coast GC 500 road stop at Patalavaca so it's well connected to the rest of the island.
Getting better
The local Mogan town hall is now making a big push to modernize the beachfront promenade that runs from Arguineguín to Anfi and has already refurbished the beach viewpoint and laid the foundations for a public bathroom right by Patalavaca beach. We don't expect the changes to affect Patalavaca's laid-back atmosphere, but they will make a great Gran Canaria spot just that little bit better.
Property
The Patalavaca area has a great range of property from beachfront apartments with balconies and sea views all the way to villas with gardens and swimming pools. It's a quiet residential area with a good mix of local and foreign property owners and there is plenty of parking.
Is Patalavaca for you?
Good choice! If Patalavaca sounds like the sort of place you want to know more about,  contact us or walk into Arguineguín and pop into our office. As south Gran Canaria's most recommended estate agency, we're always open to visitors and we have a great selection of property in the area for purchase and for rent.