17 Aug 2019
Buying a Resort or Tourist Complex In Gran Canaria
Published in Buyer tips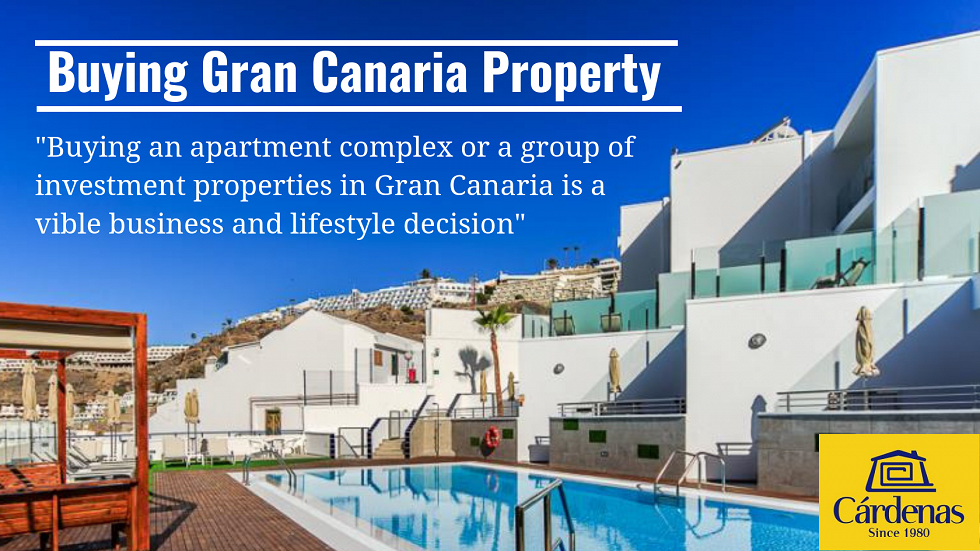 Buying an apartment complex or a group of properties as a Gran Canaria investment is a viable business and lifestyle decision.
However, success depends on understanding the Gran Canaria rental market and choosing the right complex.
That's where we are uniquely qualified to help.
At Cardenas Real Estate, we have extensive experience of pricing and selling Gran Canaria tourist complexes; We run our own profitable Puerto Rico complex, called the Sea Breeze, and have sold several other complexes over the last decade for a total value of 15 million Euros. We also rent out over 100 private properties in south Gran Canaria.
Stage one of buying an investment complex in Gran Canaria is to assess the business viability of the available options.
Is the business priced correctly?
Buying any business in Gran Canaria requires in-depth knowledge of local prices and markets and accommodation complexes are no exception.
To make a quality offer, you need a thorough market study based on property and business prices in the area, as well as the property itself.
How much investment is need to bring it to modern standards?
Older complexes often need significant investment on top of the purchase price to bring them up to legal and market standards. This should be reflected in the sale price and is not necessarily negative. New or recently refurbished property provides a competitive advantage in many areas of Gran Canaria's mature resorts.
It is often small changes that make a big difference to the financial viability of a project. For example, there are hotspots that boost bookings significantly; things like the swimming pool or terrace design and room layout.
Modern design, both interior and exterior, plus quality equipment are excellent investments as they allow you to charge much higher prices.
A quality refurbishment allows you to make these changes and better target your potential client base thus increasing profitability. This is an important point because the previous profitability of a complex is not an accurate indication of post-refurbishment margins.
Many complexes have been managed in a simple, old-fashioned way with a focus on tour operator bookings rather than the higher-margin channels such as direct bookings, Airbnb, social media, etc.
Which business model best suits the property?
In Gran Canaria, there are two main rental business models.
The first and most common is short-term rentals that cater to tourists who visit the island for a week or two at time. Bookings can be organised directly via booking websites, and via tour operators.
This is possible in complexes built on tourist classified land (mostly existing complexes because new building licenses are subject to very restrictive regulation), and with the new regulation of holiday homes, also on residential land (you can buy residential classified land and build a complex to rent out short-term under the regulation of "viviendas de uso turistico")
The second main model is long-term rentals that cater to visitors, often older people, who come to Gran Canaria for long periods during the year. A good example would be retired people from northern Europe who visit the Canary Islands for several months during the winter. This is the market segment that our Sea Breeze complex caters to.
Other important business model decisions include the level of service to offer (catering, laundry, etc).
The correct model depends on the complex, its location, and also on the lifestyle that you as the new owner want to have.
Your life in Gran Canaria
It's tempting to try to provide your clients with a large range of services such as breakfast, 24-hour reception, etc. However, this isn't always viable on smaller complexes and can put a huge strain on owners and their staff.
The key to success is about finding the sweet spot where profitability, service and lifestyle all coincide.
Getting the right advice…
Our considerable experience in the Gran Canaria property and rentals market, plus our specialist, in-house legal team, mean that we can help you find and buy the right apartment complex or resort in south Gran Canaria.
Please get in touch with us if you are considering a new life in Gran Canaria as a business owner.