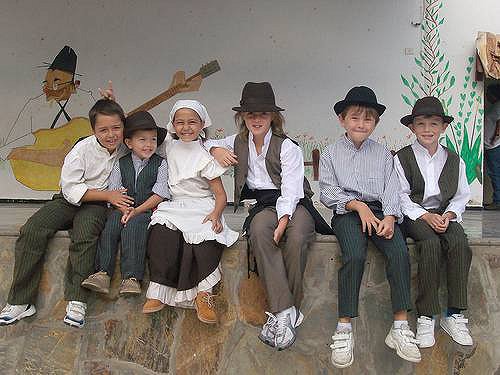 On the 30
th
of May each year the Canarias celebrate Canary Day 'Día de Canarias', this day is celebrated in remembrance of the date of establishment of the first regional parliament in 1983. This year as it falls on a Sunday, the bank holiday has been passed over to the Monday so a lot of happy faces will be seen thanks to the long weekend! Celebrations and festivities begin during the week mainly with school celebrations, the children dress up in typical canarian costume and hold a party with songs and dances followed by some delicious typical canarian food products including tortillas (Spanish Potato omlettes), papas arrugadas con mojo (Wrinkled potatoes with a mojo sauce), fresh local cheese, tortillas de calabaza (Pumpkin flat cakes) etc. Parents are always invited along to see their children looking angelical in their costumes, watch them sitting patiently waiting for there performance to start and of course to help finish off the delicious leftovers that the children turn their noses up at! Many other cultural and leisure activities are held on this day throughout Gran Canaria. Below you will see what there is to see and do in Mogán:
Friday the 28th of May, 9 pm in La Santiaga Cultural centre, Playa de Mogán
there will be a Folklore exhibition from the Music and Dance school with the participation from the students and various other groups.
Saturday the 29th of May, 9:30pm in the Nicolás Quesada park, Mogán village
the official program for the "San Antonio El Chico 2010" (Fiesta in Mogán) will be presented and will be followed by a concert from the local musical group 'Taorogán'.
Sunday the 30th of May, 6pm in the Plaza de las Marañuelas  ,Arguineguín
there will be a Crafts and regional cuisine fair followed by a concert from Taorogán at 9pm. By Lucy Evans