15 Jul 2019
Find The Perfect Gran Canaria Property: Tips From Cárdenas
Published in Buyer tips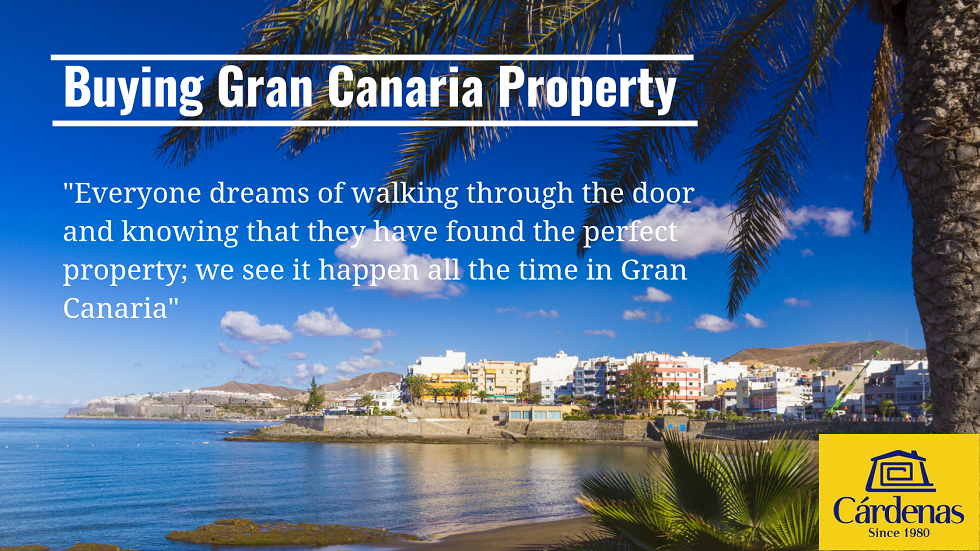 Everyone dreams of walking through the door and knowing on the spot that they have found the perfect property: At Cárdenas Real Estate, we see it happen all the time in Gran Canaria.
However, we also see lots of clients who are torn between two properties, or just don't know exactly what they want from a Gran Canaria property.
If you are undecided, here's a few tips to help you focus.
What is your perfect Gran Canaria property for?
First, you need to decide what you want to buy property in Gran Canaria for. Is it a permanent home, a holiday home, or a rental investment that you can use from time to time?
We advise you to think of how you plan to use your property now, but also have an eye on the future. The grandkids may be happy sleeping on the sofa now, but what about in five years time?
What are the most important factors for you?
Is a sea view a must, or is stair-free access essential. Do you love Puerto Rico or Arguineguín, or is it the overall climate and atmosphere of Gran Canaria that attracts you?
If you have an exact location in mind, it makes it easy to see the available properties and make a decision. However, if you are happy to view property over a wide area, you stand a good chance of finding something that suits your needs exactly.
What is your budget?
With a good idea of how much you want to spend, you can get a good idea of what is available in south Gran Canaria in a day or two of viewings.
A fixed budget bracket allows you to compare similar properties in different areas. You can always modify your budget at a later date, but seeing comparable properties is an effective way of narrowing down your options during a visit.
Be prepared to compromise
All property purchases are a compromise to a certain extent as you have to be fortunate to find the perfect property (unless you won the lottery; in which case, feel free to contact us immediately) within your budget.
It definitely helps to be in Gran Canaria when you have to make important decisions about property here. That's why we offer summer viewing trips with accommodation at our Sea Breeze apartments.
At Cardenas Real Estate we listen to the needs and requirements of our clients, and understand their lifestyles, so that we can advise on the property areas and properties which fit best to your personality and way of living.