31 Jan 2019
Carolina Discusses Gran Canaria Property Prices On Local Radio - Radio RTV Mogan
Published in News, Cárdenas in the news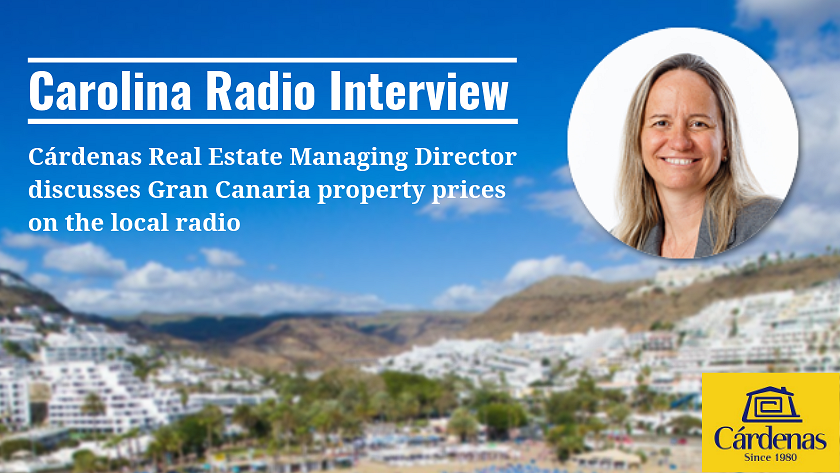 Cárdenas Real Estate managing director and Gran Canaria property expert Carolina recently went on local radio program RTV Mogán to discuss Gran Canaria's property prices.
Gran Canaria property prices rise but by how much?
Recent figures released by Spanish property portal Pisos.com showed a 41% rise in property prices in the Mogán municipio in 2018. They also claimed that prices in the capital city Las Palmas rose by 20%.
However, as Carolina explains in the radio interview, figures from portals can be misleading and do seem to be inaccurate in this case.
This is for two main reasons:
Property portals base their price estimates on the asking price rather than the actual selling price.  They only show what people would like to get when they sell rather than what buyers are willing to pay.
Portals also want to encourage people to list their properties so they tend to highlight property price rises.
Official Gran Canaria property figures show moderate price rises
Official property sale price figures from the Spanish Ministerio de Fomento contradict the Pisos.com numbers. According to the official stats for 2018, prices in Mogán rose by 11% and prices in Las Palmas by about 10%. These rises are also consistent with our own figures here at Cárdenas for the Mogán area.
Selling a Gran Canaria property in 2019?
If you plan to sell a property in south Gran Canaria this year, it is vital to get a professional valuation that takes recent price rises and local variations in demand into account.
To help you, we've just published this completely free, 32-page PDF guide to selling Gran Canaria property.