17 Jan 2020
Gran Canaria Property Area Guide: San Fernando
Published in Buyer tips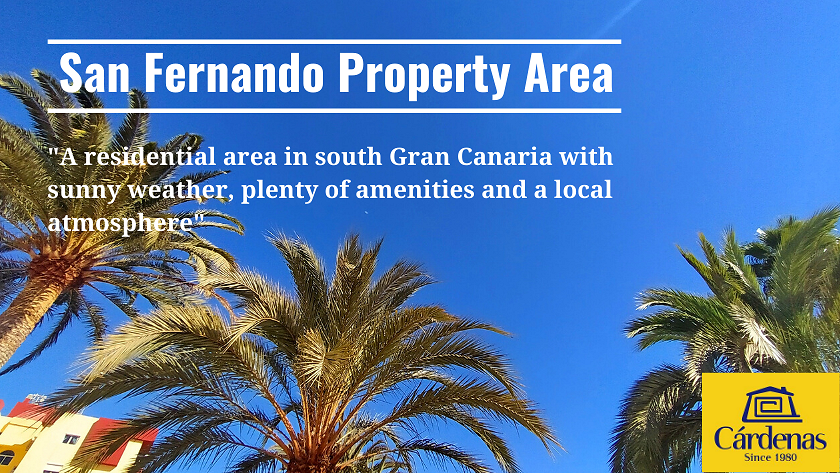 San Fernando is an area in the south of Gran Canaria, where many locals chose to live, due to its location, near to their jobs in Maspalomas, San Agustín and Playa Del Inglés.
Where in South Gran Canaria is San Fernando?
San Fernando is just inland from Playa del Inglés resort on the inland side of the GC 500 road. It shares the Avenida de Tirajana with Playa del Inglés. San Fernando is a sunny town which has seen considerable development in recent years and now has a modern shopping area and a growing number of quality local restaurants. San Fernando's history started in the 18th Century as a small settlement around the original manor house called the Casa Condal. It started to grow into a modern town from the 1960s when tourism began to boom in south Gran Canaria. The San Fernando property area in south Gran Canaria mixes residential flats and townhouses, with some larger houses and villas in the Bellavista area. The main streets are Avenida Alejandro del Castillo, where the market is, and Avenida de Galdar close to Bellavista.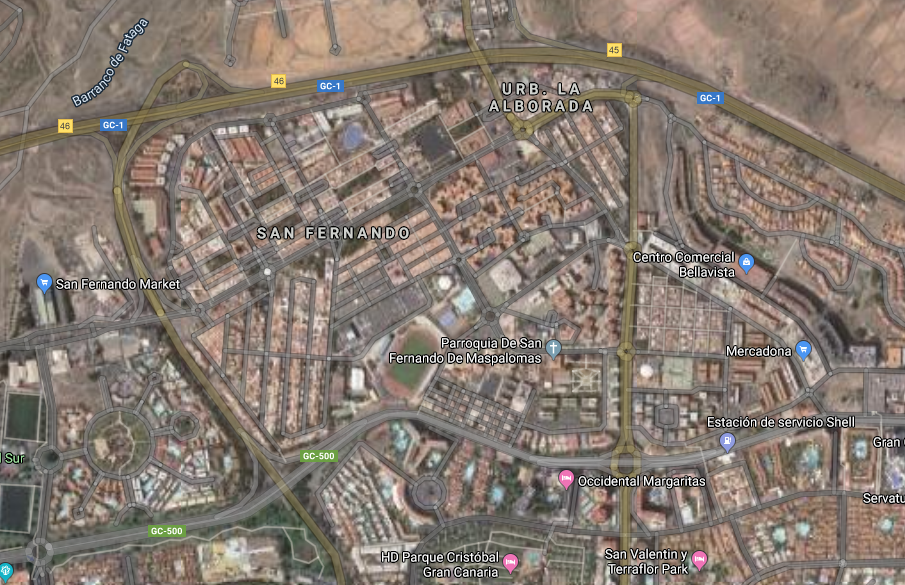 The San Fernando property area in south Gran Canaria  
Why is San Fernando a Gran Canaria property hotspot?
San Fernando is a residential area in south Gran Canaria, located very near the main resorts of Maspalomas such as Playa del Inglés and Campo Internacional. It is popular with locals and foreign residents that work in the holiday resorts and also with non-residents that want a property in a local town. The area has all the services and amenities of a Spanish town but also benefits from the spectacular, sunny climate of south Gran Canaria.
What's in San Fernando?
The town is mostly low rise residential buildings and town houses separated by wide-tree-lined streets. The main street has a good range of local shops and supermarkets. As a local town, San Fernando has lots of facilities such as playing fields, sports halls, swimming pools, etc as well as its own marketplace.
Property in the San Fernando area
Most properties in San Fernando are apartments in low-rise buildings with large internal courtyards and townhouses although Bellavista is a enclave of larger houses and villas with outside space A one-bedroom property in San Fernando starts at around €90,000. A two-bedroom property at €100,000 and a three-bedroom apartment from €120,000. A villa or house costs from €350,000.
The future of San Fernando
The town has improved immensely in the last few years thanks to its new High Street and general modernisation. It is likely to remain a popular residential zone in south Gran Canaria especially once the new waterpark just to the east is completed.
Cárdenas Real Estate in Maspalomas
Please feel free to contact us if you have any questions about property in San Fernando, or south Gran Canaria in general.