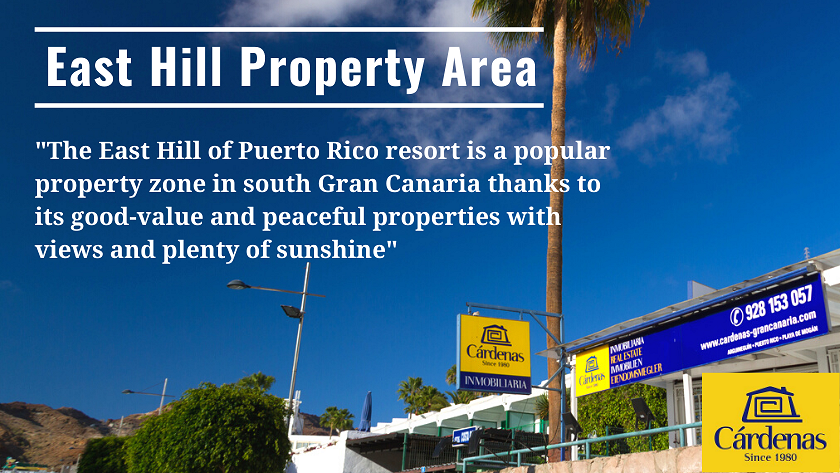 The East Hill of Puerto Rico resort is a popular property zone in south Gran Canaria thanks to its good-value and peaceful properties with views and plenty of sunshine.
Where in South Gran Canaria is East Hill?
]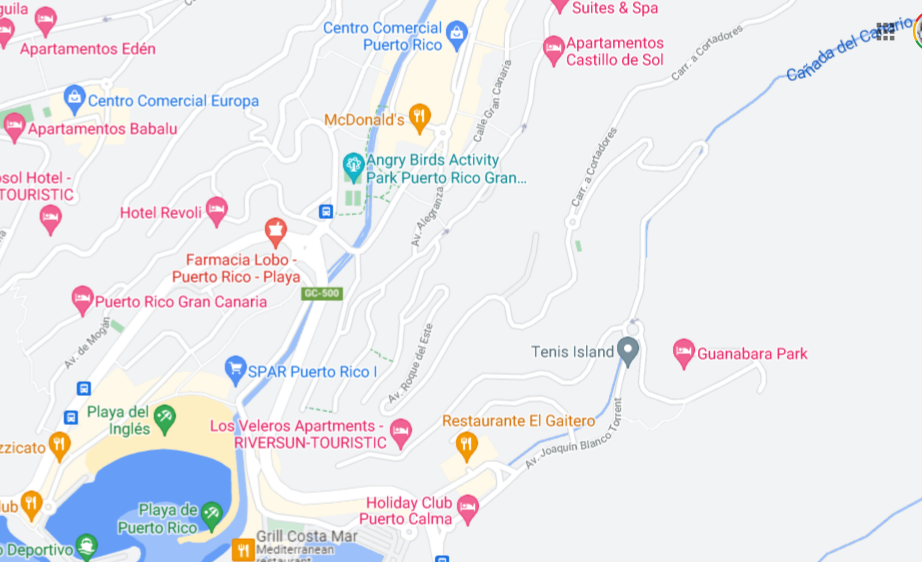 The East Hill property area in south Gran Canaria
The East Hill area is the eastern side of the Puerto Rico valley in southwest Gran Canaria. It is close to many of the resort's facilities and amenities. Most of the properties in the southern area of East Hill are close to Puerto Rico beach.
Since Puerto Rico's East Hill is almost at sea level it has a warm climate throughout the year.
Why is East Hill a Gran Canaria property hotspot?
As well one of the warmest and sunniest climate's in Gran Canaria and in Europe, East Hill is west facing so it receives plenty of afternoon sunshine. Most properties on East Hill have outdoor space and many have views of the sea and of Puerto Rico resort's many green areas. Properties in East Hill tend to be on complexes with shared swimming pools and garden areas. The area is quiet as most of the resort's bars and night life are concentrated in its shopping centres.
What's in East Hill?
Because almost all of East Hill is within walking distance of Puerto Rico's shopping centres and amenities, the property area itself is made up almost exclusively of apartment complexes. There are small supermarkets dotted throughout the area and larger complexes have pool bars. Stairs run down the hill towards the centre of Puerto Rico.
Property in the East Hill area
The property in Puerto Rico's East Hill is mostly apartments with some bungalows, terraced houses and villas.
One-bedroom apartments in East Hill cost from 120,000 to 140,000 euros depending on size, location and property features.
Two bedroom properties in East Hill cost from 160,000 to 220,000 euros.
Villas sell for between 450,000 and 600,000 euros.
Browse the best property for sale in Puerto Rico right now.
The future of East Hill
Puerto Rico has experienced a lot of modernisation in recent years with two brand new shopping centres called the
Mogán Mall
and
The Market Puerto Rico
. Both offer a wide range of shopping and leisure options including restaurants and bars. The original Puerto Rico Shopping Centre has also been extensively refurbished and is now reopening.
East Hill itself is set to remain a quiet and pleasant property zone popular with both local residents and non-resident buyers.
Cárdenas Real Estate in Puerto Rico
The Cárdenas Real Estate office in Puerto Rico resort is located in East Hill right next to the Puerto Rico shopping centre. It opened over 20 years ago. Our Puerto Rico team are specialists in the local area and are always available to answer any Puerto Rico property questions you have.