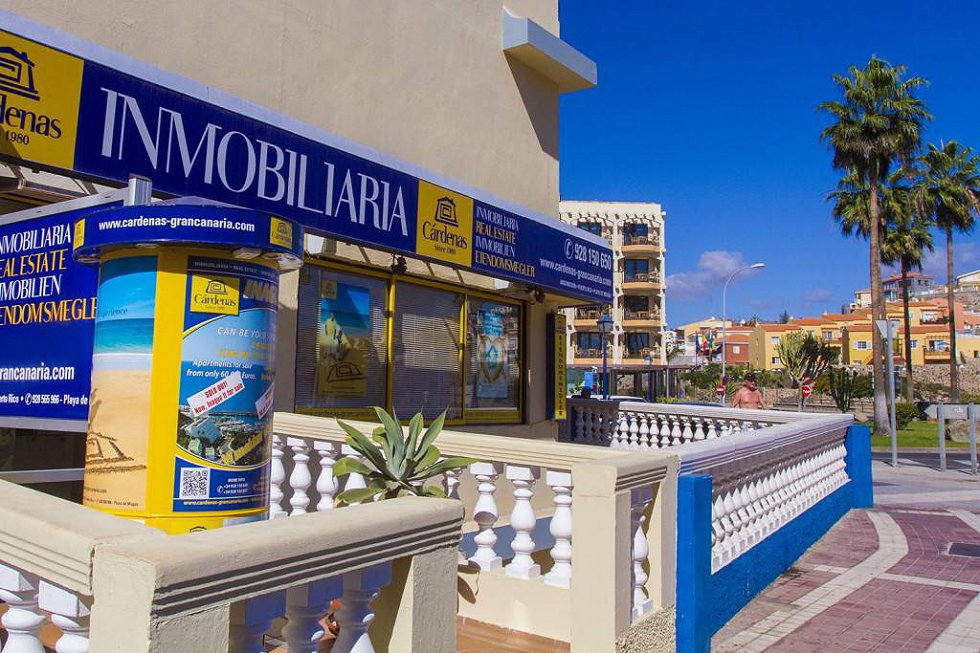 Arguineguín is south Gran Canaria's big coastal town and has maintained a local feel even though it is now popular with visitors and tourists.
At Cárdenas Real Estate we love Arguineguín so much that we have two offices in town and here are the Top Ten reasons why.
It's a real place
Arguineguín was a fishing village long before Gran Canaria was a tourist destination and it still has a local feel even though thousands of foreigners own property in the area. Most people who live in town are Canarian and the town still has a local fishing industry.
Where people actually live
As Mogán municipality's biggest coastal town, it has a great range facilities and services for residents; things like hardware shops, florists, supermarkets, cafes, and friendly local estate agents; all with local prices.
And have fun
From the regular tapas evenings by the beach to outdoor concerts and the busy weekly market, there's always something going on in Arguineguín. Visit in July and you get to experience the full Fiestas del Carmen experience with a boat procession, live music, and fireworks.
But it caters to foreign visitors
Arguineguín is a local town with enough foreign residents and holiday makers to let people from all over the world feel at home. You can buy everything from French wine to parsnips and there's a fantastic social scene including walking groups, bowling and of course, the Norwegian Seaman's church or Sjomannskirken on the seafront.
The food is fresh and tasty
Arguineguín's harbour means that the fish you get in the restaurants is as fresh as it comes. Look out for local tuna and sardines that literally go from boat to plate.
There are plenty of local cafes that do tasty sandwiches and coffee and a whole range of restaurants from the quayside fish restaurant run by the Fisherman's Guild to Taste Mesón with its range of Canarian wines and delicious tasting menu.
The sun always shines
Arguineguín is one of the sunniest places in the world with an average of over 320 sunny days per year. Even in the middle of winter, the town gets hours of sunshine every day and everyone is outdoors.
But the breeze keeps it cool
Even in the middle of summer, the sea breeze keeps Arguineguín cool. Day temperatures rarely rise above 30ºC and never fall below 20ºC. That's about perfect for anything you want to do (except skiing).
It's surrounded by beautiful beaches
Caribbean Anfi beach is just to the west of Arguineguín and you can walk to it along the seafront. Just to the east is El Pajar and the natural pebble beaches at Llano de Los Militares and Triana. A short bus ride and you are at Amadores and Puerto Rico or, if you head the other way Maspalomas and Meloneras.
And has its own lovely beach
But you don't even have to leave town to go to the beach. Las Marañuelas beach in the centre of Arguineguín has soft sand and calm water, while Arguineguin beach on the east side of town is empty most days. La Lajilla has a little beach and there's great swimming at Playa Esmerelda between Arguineguín and Anfi.
Arguineguín is about to get even better
The local government has now confirmed that it is to invest in the whole beachfront promenade between Arguineguín town and Anfi beach to the west. The first stage of the job includes refurbishing the La Lajilla natural pool and beach.
Another project that is about to start is the upgrade to Arguineguín marina. This will separate the fishing fleet from the recreational boats, connect the beach to the marina, and add more places to eat and drink by the sea.
Is Arguineguín for you?
Does Arguineguín sound like a place you want to know more about? Contact us, or pop into one of our offices anytime for a coffee and a chat. We're as friendly as all the locals.