26 Jun 2019
Buying Luxury Property In South Gran Canaria
Published in Buyer tips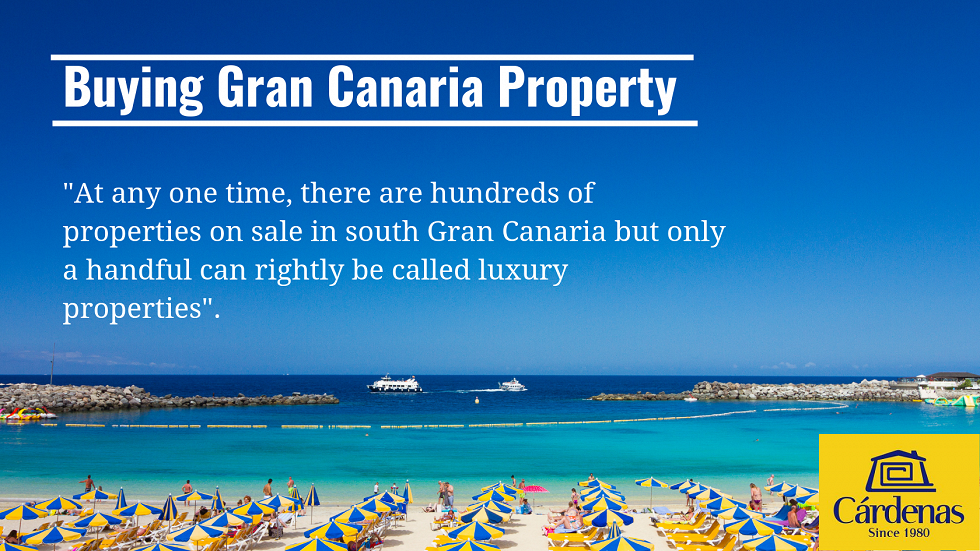 Luxury property in Gran Canaria comes in all shapes, sizes and locations. From stunning villas overlooking Maspalomas and the golf courses, marina properties at Pasito Blanco, to beachfront apartments in Puerto de Mogán.
At any one time, there are hundreds of properties on sale in south Gran Canaria but only a handful can rightly be called luxury properties. The best don't come up for sale very often (something to do with the owners not wanting to sell them) so it's likely that your search will take time.
This is why it pays to have a quality agency monitoring the market so that you find out about newly-listed properties as soon as possible.
Keeping track of the Gran Canaria luxury property market
At Cardenas, we are members of the island's shared property database BOICAN so we see new property as soon as it is goes on sale. We list the best luxury properties available on our website, and can show you almost any other for sale property in south Gran Canaria.
With over 36 years of experience in the area, we are highly regarded by owners and other agencies; If you have a specific area or property type in mind, we can make discreet inquiries about properties that are for sale but not advertised.
We also have a specialist luxury property website focusing on the upmarket Villas in Monte Leon zone which overlooks Maspalomas.
Can't find exactly what you are looking for. We also list a selection of plots in exclusive areas of Gran Canaria where you can build your dream property.
Gran Canaria South luxury property locations and urbanizations are Campo de Golf (Las Raquetas) and Campo Internacional in Maspalomas, Meloneras, La Gloria in San Agustin, Sonnenland, Monte León, Pasito Blanco, Loma Dos in Arguineguin, Patalavaca, Playa de Mogán and Puerto de Mogán.
Please feel free to contact us if you have any questions about the Gran Canaria property market, or pop into one of our offices for a consult.