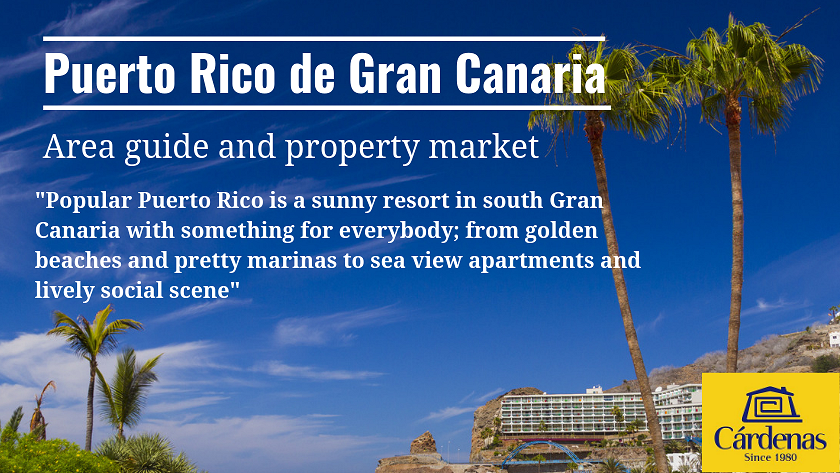 Popular Puerto Rico is a sunny resort in south Gran Canaria with something for everybody; from golden beaches and pretty marinas to sea view apartments and a lively social scene.
Where in South Gran Canaria is Puerto Rico
Puerto Rico is in south-west Gran Canaria about halfway between Playa del Ingles and Puerto de Mogan and sits right in the middle of the famous south Gran Canaria bubble of sunshine.
The area around Puerto Rico is also one of the sunniest places in Europe with over 320 days of blue skies every year. It has a warm climate with little wind and the sea here is calm and safe. The Puerto Rico valley faces south-west and gets sunshine all day long.
It is easy to get to from the airport and the island's other resorts as it has its own exit from the GC1 motorway and is also connected to nearby spots like Arguineguín and Tauro via the picturesque GC 500 coastal road.
Why Puerto Rico is such a popular Gran Canaria property hotspot
Puerto Rico resort is one of the biggest and busiest in south Gran Canaria but has plenty of quiet spots with little traffic and lots of greenery and tropical plants.
Almost all Puerto Rico property has outside space and because it is located in a valley, most have broad views down to the sea.
Most Puerto Rico property is arranged in small complexes or apartment buildings with communal pool, sun terraces and gardens; ideal for holiday home buyers.
Many people choose Puerto Rico because it is such a diverse and complete resort. The lively shopping centres are packed with bars and restaurants, as is the strip by the golden-sand beach. There are local supermarkets and lots of quiet bars and restaurants dotted throughout the resort.
In summary, Puerto Rico is a Gran Canaria property hotspot because it offers something for everybody.
What's in Puerto Rico
Puerto Rico has its own sheltered sandy beach and is minutes from the beautiful half-moon beach at Amadores. It has two marinas with lots of charter boats and a full range of watersport rentals.
The bottom of the valley is a green area with lawns, gardens and palm trees and the property areas are on the two flanks of the valley looking down towards the parks and the sea.
The Puerto Rico social scene focuses on the large shopping centre in the middle of the valley which has dozens of bars and restaurants catering to all tastes and nationalities.
Property in Puerto Rico
Most property in Puerto Rico consists of apartments although there are also bungalows and even some duplexes and villas.
Property prices in Puerto Rico are very reasonable with studios starting at €70,000 in areas further from the sea and the valley floor. Large and well-located studios sell for up to €100,000.
One-bedroom apartments start at €110,000 up to €180,000 while two-bedroom apartments sell for between €170,000 and €275,000. Three-bed apartments go for €200,000 to €350,000.
Duplexes in Puerto Rico range from €170,000 to €300,000 and villas from €240,000 to €1.000,000.
See the latest Puerto Rico property for sale.
The future of Puerto Rico
The parks and gardens of Puerto Rico resort have recently been refurbished and further big changes are due in Puerto Rico resort during 2019. The first of two new retail areas, The Market Puerto Rico is now open and the larger Mogán Mall is due to open later in the year (on the site of the old water park). They are both a mix of cafes and restaurants, fashion and retails shops and supermarkets.
Together they form the largest shopping area in the whole of south Gran Canaria and give Puerto Rico a significant boost in terms of attractiveness to both visitors and property buyers.
Cárdenas Real Estate in Puerto Rico
The Cárdenas Real Estate office in Puerto Rico is opposite the shopping centre on Av. Tomás Roca Bosch, 6. We are one of the area's leading estate agencies with a long history of working with property owners and buyers.
Please feel free to contact us if you have any questions about property in Puerto Rico or south Gran Canaria in general.