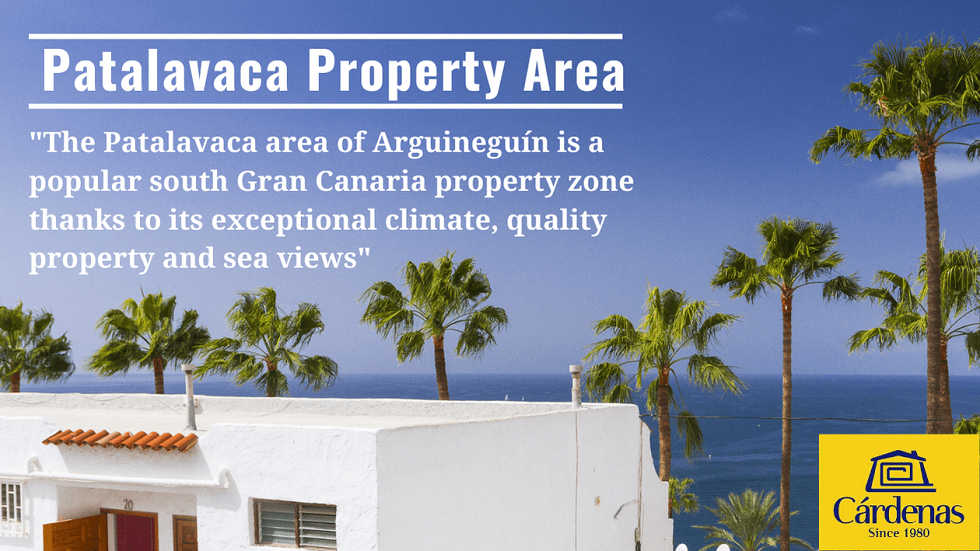 The Patalavaca area of Arguineguín is a popular south Gran Canaria property zone thanks to its exceptional climate, quality property and sea views.
Where in South Gran Canaria is Patalavaca?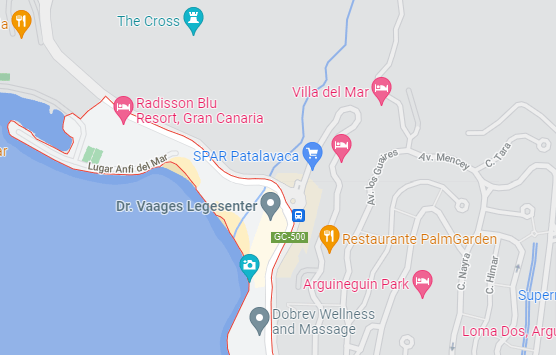 The Patalavaca property area is the zone behind Patalavaca beach between Arguineguin town and Anfi del Mar resort.  There are apartment blocks right by the beach and along the coast, and a mix of villas and apartments stretching back up the hill until Patalavaca merges with the Los Altos de Arguineguin property zone.
Since almost all property at Patalavaca faces south, it is one of the warmest and sunniest places in the whole of Europe.
Why is Patalavaca a Gran Canaria property hotspot?
As well as a warm, sheltered climate and almost permanent blue sky, Patalavaca is popular because most property here has views out over the ocean. Most also have outside space such as terraces or gardens, and are in small, quiet and private complexes. The area even has its own Michelin-starred restaurant; The Aquarela at the Aquamarina complex.
Residents and visitors appreciate the long coastal walk that runs from Anfi del Mar all the way to El Pajar north of Arguineguin. They also love the fact that Patalavaca is peaceful but just a few minutes up the road from Arguineguín town and the busy resort of Puerto Rico.
What's in Patalavaca?
Most of the Patalavaca area consists of holiday homes and residences. Patalavaca has plenty of amenities such as supermarkets and local restaurants both by the coast and up the hill. It is also close to Arguineguin town with all its local businesses, cafes and restaurants.
Patalavaca beach is a natural, golden sand beach with calm water and some sun loungers and parasols. It also has a beach club with swimming pool and cocktail bar, and a selection of beachfront restaurants.
Property in the Patalavaca area
The property in Patalavaca is a wide range of apartments, duplexes and villas with some bungalows, many with direct sea views.
A studio apartment at Patalavaca costs 100.000 - 150.000 euros depending on size, location and property features.
A one-bedroom apartment at Patalavaca costs 120.000 - 200.000
A two-bedroom apartment at Patalavaca costs 150.000 - 250.000
A villa costs 750.000 - 1.500.000 euros.
Browse the best Patalavaca property on the market right now.
The future of Patalavaca
Patalavaca will remain a peaceful and established property area and is set to benefit from a major refurbishment of its coastal pathway. This project has already started at Arguineguín with the modernisation of the natural pool at La Lajilla. The next phase will improve the paths and facilities all along the Patalavaca coast to Anfi del Mar.
The harbour at Arguineguín itself is also scheduled for improvement to separate the fishing fleet from the recreational area of the marina.
Cárdenas Real Estate in Patalavaca and Arguineguín
The Cárdenas Real Estate office in Arguineguín is located right by the Whale Tail roundabout at Calle La Lajilla 2 in Arguineguin. Our legal and tax services offices is just a bit further down the road.
Cárdenas Real Estate has been a leading agency in Patalavaca and Arguineguín for over 40 years and our team are specialists in the local area. We are always available to answer any questions you have about property in south Gran Canaria.