18 Nov 2016
Gran Canaria Property & Cardenas Real Estate Featured By The Financial Times
Published in News, Cárdenas in the news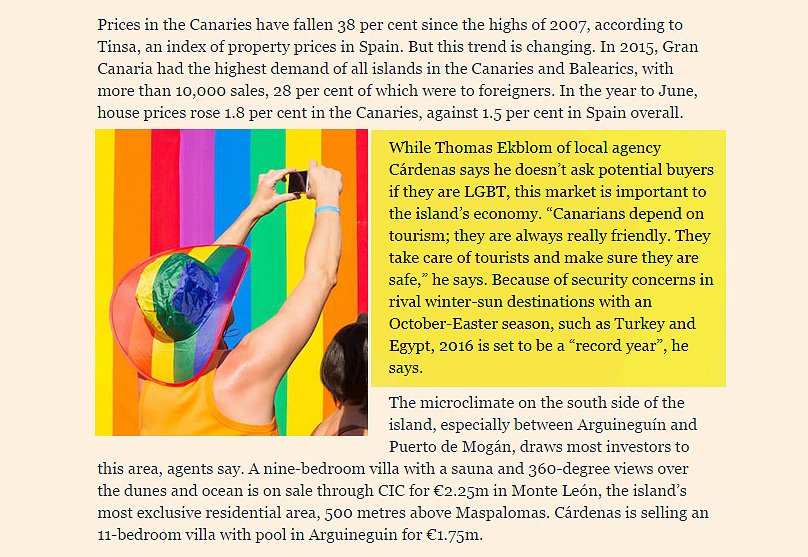 We're proud to announce that the Gran Canaria property market has just featured in the Financial Times newspaper in an article focusing on LGBT property buyers in Gran Canaria; an island that 'basks in an eternal Spring'.
The article, focusing on the LGBT market, even featured a Cardenas Real estate property and a quote from our agent Thomas Ekblom.
Asked about the importance of the LGTB market, Thomas said that while he 'doesn't ask potential buyers if they are LGBT', the market is important to the island's economy. "Canarians depend on tourism; they are always really friendly. They take care of tourists and make sure they are safe". The FT comments that Gran Canaria is widely appreciated amongst the LGTB community for its high quality of life and freedom.
In turn, the article noted the importance of 'DINKS' (couples with a double income and no kids) to property markets, noting that 'In the UK 7 per cent of LGBTs interviewed already own or are buying investment properties and a further 6% said they intend to buy. This is compared with 3.5% of total UK population owning an investment property'.
The Financial Times article also highlighted some interesting points about the Gran Canaria property market in general.
In 2015, the Gran Canaria market 'had the highest demand of all islands in the Canaries and Balearics, with more than 10,000 sales, 28% of which were to foreigners'.
The microclimate on the south side of the island, especially between Arguineguín and Puerto de Mogán, draws most investors to this area'.
Property tax (known as IBI) is 'relatively low on apartments since it is calculated on land value rather than property value'.
At Cárdenas, we're proud to have been featured in the Financial Times and glad that it reminded everyone of what we already know; that south Gran Canaria is a wonderful place for everyone to live, stay, and buy property.