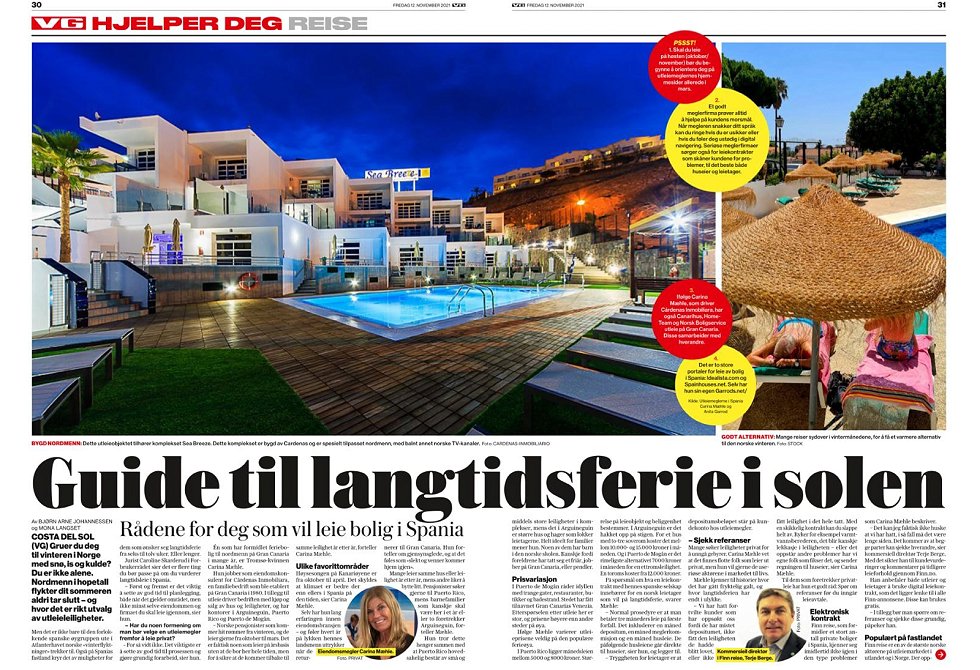 Norwegian newspaper VG has featured our Sea Breeze complex in Agua La Perra, Puerto Rico de Gran Canaria, along with quotes from Cárdenas property consultant Carina Mæhle.
In article that was titled "A guide to long-term vacation in the sun", VG gave Norwegians advice on how to find and book quality, reliable winter holiday accommodation in Gran Canaria and other areas of the Canary Islands and Spain.
The article describes Cárdenas Real Estate as "a family business that was established in Gran Canaria in 1980. In addition to renting, the company buys and sells houses and apartments, and has offices in Arguineguin, Puerto Rico and Puerto de Mogán".
And Carina is quoted explaining how, "Norwegian pensioners who come here escape from the winter, and they are happy to rent from October to March. There are actually some who rent on an annual basis without living here all the time, but to ensure that they return to the same apartment year after year".
She also said, "the high season in the Canary Islands is from October to April. This is because the climate is better there than elsewhere in Spain at that time".
The Sea Breeze complex caters for exactly the kind of winter visitor that VG created its guide for: Norwegians who want to spend a long period in the sunshine of Gran Canaria in a welcoming place with all the facilities they need.
For more information about the complex, see the Sea Breeze feature on our website. You can also see how our many loyal guests feel about their holidays at the Sea Breeze on the Facebook page.