The town of Maspalomas is a major tourist hub on the south of the island, with the exclusive and upmarket Meloneras on the coast just to the west. Life here is calmer than neighbouring Playa del Inglés, with great facilities, beaches and parks that are perfect for family life.
The natural choice for island living
Renowned across the world for its many kilometres of beaches, beautiful natural features and more relaxed pace of life, Maspalomas and Meloneras are a favourite with holidaymakers and those looking to escape the cold winters of northern Europe.
The town of Maspalomas offers in the area of Campo Internacional a wealth of small and medium complexes of bungalows, chalets and villas, including small developments overlooking the golf course, while the island's newest and most exclusive resort of Meloneras is mostly upmarket hotels and boutiques, with a few small, private estates of houses and villas.
Wherever you choose to live or stay, the town has everything you need, from great parks and shopping centres to lovely beaches that stretch past the dunes all the way to Playa del Inglés and beyond. These picturesque natural surroundings offer endless opportunities for walking, sport activities and other family activities.
Natural wonders
At the heart of the area you'll find the stunning sand dunes of the Reserva Natural Especial de las Dunas, a spectacular natural buffer between the town and the beaches that sweep along the coast all the way from Faro de Maspalomas to Playa del Inglés and beyond.
The perfect climate
Gran Canaria has one of the best climates in the world, especially on this part of the coast, so it's ideal for outdoor living, whether hiking in the mountains, enjoying a round of golf, lounging on the beach or relaxing on your terrace. Or spend a warm sunny day taking a long family walk along the Boulevard El Faro from the iconic 60-metre high lighthouse before enjoying dinner and a spectacular sunset.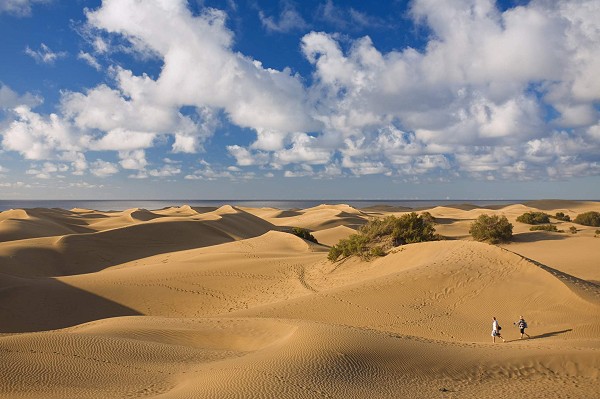 A wealth of facilities
From the chic boutiques and beachfront golf course of Meloneras to the Parque del Sur, Holiday World and dunes of Maspalomas, the local facilities cater for residents and visitors of all nationalities. Playa del Inglés is just next door, with its shopping centres and vibrant night life.