San Agustín offers a more gentle pace of life, with a long beach and a mix of hilly neighbourhoods with views of the sea and flat areas by the beach. It's a great place to live and visit, an oasis of calm within easy reach of the vibrant holiday destinations of Playa del Inglés and Maspalomas.
A perfectly position
The site of Gran Canaria's first ever hotel in 1965, San Agustín sits in the island's 'bubble of perpetual sunshine', nestling between the smaller resorts of Playa de Aguila and Bahia Feliz to the north, and the famous Playa del Inglés to the south.
Residents and visitors are happy to call San Agustín a sleepy little neighbour. With plenty of green spaces, low rise property, golden beaches and a good range of quality bars and restaurants, it is a top spot for anyone looking for a property that offers peace and quiet in south Gran Canaria.
San Agustin is also mostly south-facing and aside from hotels, properties are mainly bungalows or apartments in low-rise buildings, as well as some larger houses and villas. Many have gardens or sun terraces allowing owners to take advantage of the warm, sunny climate.
International appeal
San Agustín is small enough to walk around but big enough to offer all amenities such as supermarkets, restaurants, and medical centres. There are tourists, residential tourists and permanent residents of various nationalities. San Agustín is known for its large Swedish community, and there is a Swedish school and a Swedish church here.
Therapy for the body and soul
This dedication to the calming properties of the sea may help to explain why San Agustín has a centre of Thalassotherapy, which uses saltwater and seaweed to revitalise body and soul. Alternatively you can just relax on the volcanic sand in a chilled atmosphere free from the sound of jetskis, speedboats and overcrowded bars.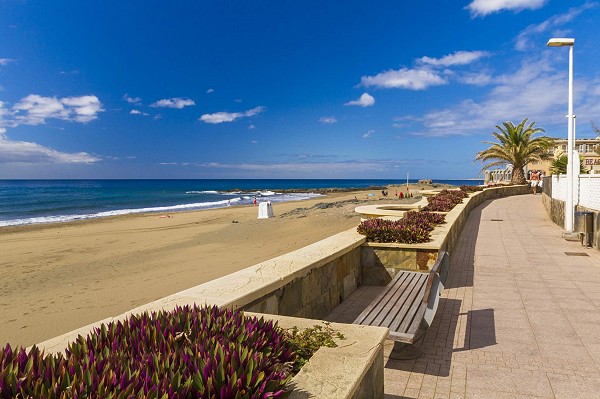 Moving into the future
San Agustín has slowly become more and more residential since its resort heyday in the 1960s to 1980s. Many complexes originally built for tourists have become holiday home complexes or even residential zones. Future growth is restricted by the lack of space available for building work, and the original low density approach to development.
Useful links