The buzzing tourist resort of Playa del Inglés is known the world over as a major centre of tourism as well as a great place to live. It is perfectly positioned on the south of the island next to the spectacular sand dunes reserve, where the best of nature meets the ultimate beach lifestyle.
Designed for living
The beach is at the heart of life here, and one of the main reasons to visit or live in Playa del Inglés is the golden sand that stretches all the way to Faro de Maspalomas. There's enough space for everyone, whether you're a surfer, party lover or a family looking to enjoy crystal clear turquoise water in perfect peace.
Property here is mostly hotels and mid-range apartment complexes. Choose from apartments, houses, chalets, villas and bungalows that all provide a perfect base from which to explore the many facilities. Some apartment or bungalow complexes have been converted into residential properties.
Everything in Playa del Inglés is designed for tourism and leisure. This is a comparatively flat area but there are seafront properties with views and Avenida de Gran Canaria overlooks the Campo Internacional de Maspalomas and its golf course.
A popular destination for everyone
This has traditionally been a very popular destination for Germans, but today you'll find a much broader range of nationalities in Playa del Inglés. Everyone is here to enjoy a wide range of features and facilities, from the spectacular natural wonder of the sand dunes of Maspalomas and kilometres of sandy beaches to bars, restaurant, nightclubs, shopping centres and spas.
A resort for the Millennium
The first hotels and complexes date back to the 60s and 70s and so many properties have been renovated and you might even choose to embark on your own project and invest in the area's modernisation yourself. There are more permanent communities in nearby San Fernando de Maspalomas and El Tablero de Maspalomas. Modern social mores are also a part of life here, and the area around the Yumbo shopping centre is a key European destination for the LGBT community to visit or set up home.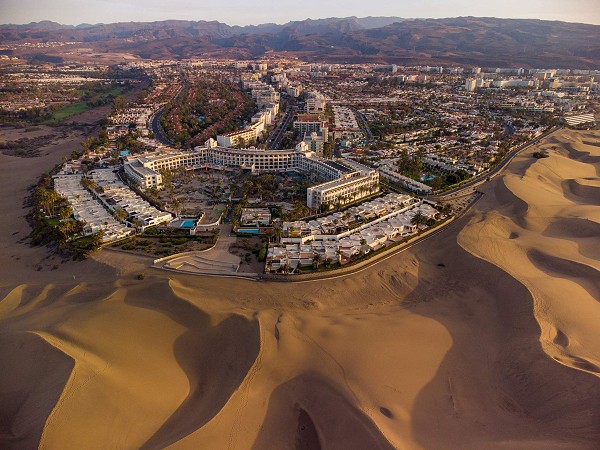 Perfect neighbours
You can reach the chic resort of Meloneras by walking along the beach beside the great dunes to the historic 60m Faro de Maspalomas lighthouse, or Maspalomas is on the doorstep, with its many facilities including the golf club, Parque del Sur and Holiday World theme park.
Useful links