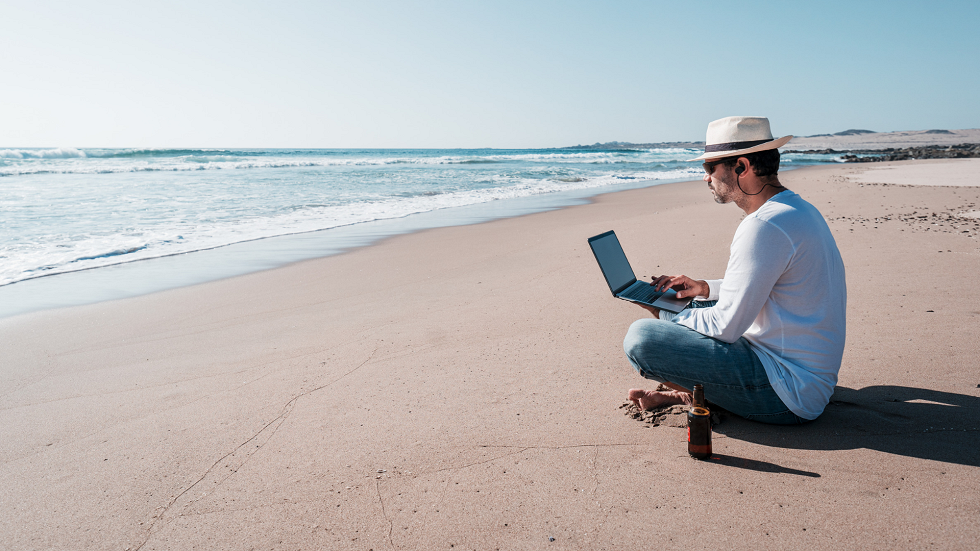 Its beautiful urban beach and bustling urban atmosphere deservedly attract a lot of people looking to work away from home. However Gran Canaria's south coast has plenty of advantages of its own for remote workers and location independent professionals.
The sunniest place in Europe
The weather in south Gran Canaria is warmer and sunnier than the north coast and Las Palmas. It gets over 320 days of sunshine per year and daytime temperatures are rarely below 20ºC. If you get work inspiration from blues skies and sea views, south Gran Canaria is the place to go to work.
A wide variety of quality property
Property in south Gran Canaria comes in a wider range than the flats in urban Las Palmas. You get to choose between apartments with communal swimming pools and garden areas, bungalows with their own gardens or villas with private pools and large outdoor areas.
Beaches, parks and gyms
South Gran Canaria is famous for its world-class beaches and long seafront promenades. It is an idyllic spot for outdoor exercise of all kinds from open water swimming to yoga under a palm tree. There is also a thriving gym and crossfit scene in Gran Canaria with local gyms always open to new members and users.
Everything you need at hand
All the standard requirements for remote work are easy to arrange in south Gran Canaria; fast fibre-optic internet is ubiquitous, there are plenty of local and international amenities and local transport is fast and reliable.
As south Gran Canaria is a cosmopolitan place it also has a good range of professionals used to working with foreign residents. You'll be able to find accountants, tax specialists and, of course, good estate agents to help you settle in and get to work.
Peace and quiet when you need it
There is little traffic in south Gran Canaria and its residential areas are quiet and peaceful. However, there are still plenty of bars, cafes, restaurants and music venues in its shopping centres and along the coast. This means you get the best of both worlds; a tranquil work day and plenty of downtime options in the evenings or at the weekends.
Specialist Coworking spaces
South Gran Canaria now has Coworking spaces and even accommodation options designed especially for remote workers. For example, the CoWorking Maspalomas space and the Remote Village Maspalomas. If you would rather work from home, then please get in touch with us at Cardenas Real Estate.
New Remote-Work Visas Are Another Option
Gran Canaria is now an even more attractive remote-working destination because Spain has recently introduced visas for remote workers, digital nomads and teleworkers. These visas allow you to live and work in Spain for a year, with extensions possible. The requirements for this type of visa are detailed in this article.
Moving to Gran Canaria
As south Gran Canaria's largest estate agency, we offer over 40 years of experience in helping people coming to Gran Canaria to find the right property. We offer a wide range of rental property, and property for sale, all across south Gran Canaria and our team of local specialists speaks nine European languages. We can even help you arrange viewings well before you arrive thanks to our remote working experience.
We also help all our clients with the basics of settling into Gran Canaria life; things like getting internet and telephone services and arranging utility services.
If you have any questions about moving to south Gran Canaria, please feel free to contact us at any time.