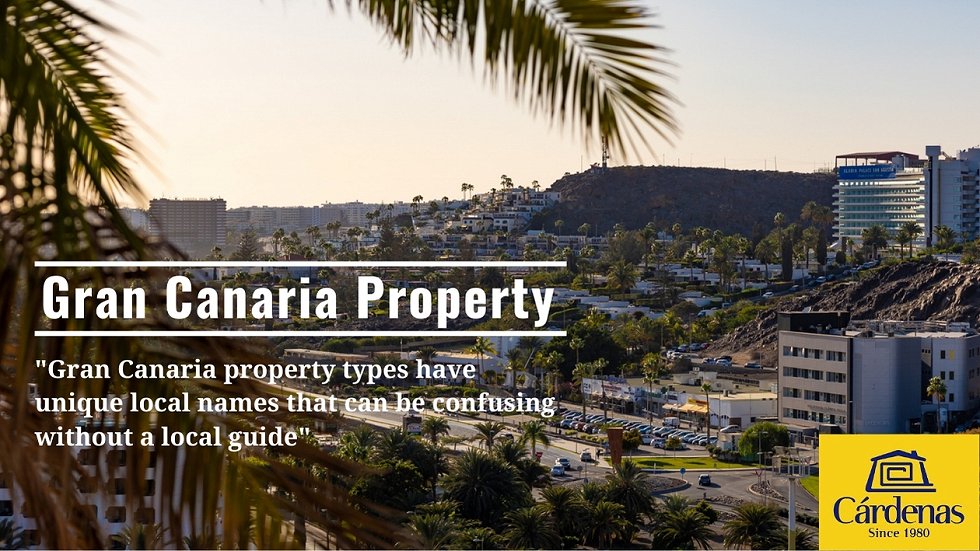 Property and the names used for different types of property in Gran Canaria are sometimes confusing for potential buyers. Here we describe the most common property types and the names used for them by locals and Gran Canaria estate agents.
Apartamento
An apartamento is a flat designed for touristic rather than residential use. As such it is almost always located in a resort area or coastal area popular with visitors. Apartamentos are designed for leisure use so they tend to have outdoor space such as a terrace or balcony, an open plan living area, and large windows. Since they are not designed for residential use apartamentos tend not to have a lot of storage space or extra rooms for an office. Locals and estate agents always use the word apartamento to describe a touristic flat or apartment and the word piso to describe a residential flat.
Piso
In Gran Canaria the word piso is used to describe a residential apartment or flat located in a town or city. It is not used to describe touristic properties. Since pisos are designed for living in they tend to have ample storage space such as built-in wardrobes and are more likely to have a parking place in the basement of the building. Conversely pisos are less likely to have outside space such as a terrace or communal areas with gardens and a swimming pool.
Ático
An ático is a top floor flat or apartment in Gran Canaria. This does not need to be decorated in a luxury fashion or include access to a roof terrace. Many áticos in residential areas are no different to the properties below them in the building. What makes them an ático is just the fact that they are on the top floor.
Loft
A loft in Gran Canaria is a penthouse apartment. What makes a loft different from an ático is the standard of its architecture and layout. Lofts in Gran Canaria are open plan with large windows and often access to outside space such as a balcony or terrace. A penthouse can also be described as 'un apartamento estilo-loft'.
Chalet
The word chalet often causes some confusion amongst foreign buyers as its use in Gran Canaria is different to what people expect. On the island it can be used to describe any property that is detached from the surrounding properties. A luxurious villa with its own garden can be called chalet but so can a three-storey townhouse with a flat roof and a narrow passageway separating it from the house next door. When searching for property in Gran Canaria buyers must bear in mind that the word chalet does not imply a luxury property as it does in other places.
Bungalow
A bungalow in Gran Canaria is a small, one-storey property, located on a complex in a resort area. Most bungalows have a garden around them and access to communal garden areas and a swimming pool.  As they are designed for touristic use many bungalows have small bedrooms and lack extensive storage space.
Villa
A villa in Gran Canaria is a luxurious property designed for touristic and sometimes residential use. They are normally located in resort areas or in developments outside towns. Villas are not as common in Gran Canaria as they are in other areas of Spain.
Duplex
In Gran Canaria a duplex is a two-storey terraced or semi-detached house. The word is most often used to describe modern properties on new developments rather than older, individual houses. A triplex property is the same but laid out over three floors. Both duplexes and triplexes can have a basement that is not included in the number of storeys that make up the name.
Casa
The word casa in Spain means house but in Gran Canaria it is rarely used on its own. For example, a country house or cottage in Gran Canaria is known as a 'casa de campo' while an old house in a town is called a 'casa terrera'. A 'casa señorial' describes a grand old house.
Finca
In Gran Canaria estate agents use the word finca to describe a property that includes a rural house and almost always the surrounding arable or rural land. The word can also be used to describe a farm without a property but that is quite rare in Gran Canaria.
For more useful Gran Canaria property vocabulary, see our Glossary of Gran Canaria property terms, divided in A-L and M-Z.
At Cárdenas Real Estate, everything we do is designed to make the process of buying and selling a Gran Canaria property as simple and transparent as possible. If you have any questions about any part of the buying or selling process, please feel free to contact us.