30 Oct 2019
Gran Canaria Real Estate: San Agustín Property Guide
Published in Buyer tips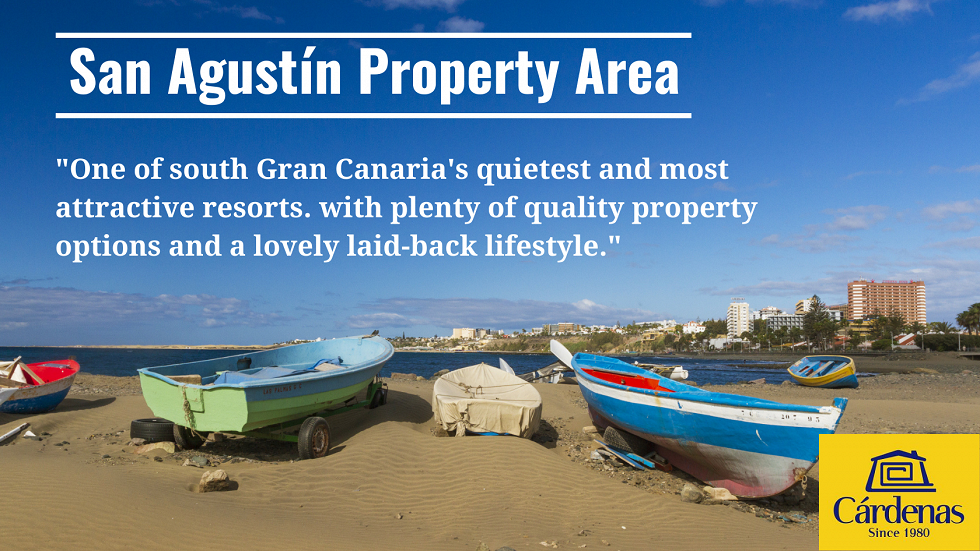 Sunny San Agustín is one of south Gran Canaria's quietest and most attractive resorts. It offers plenty of quality property options and a lovely, laid-back lifestyle. 
Where in South Gran Canaria is San Agustín?
San Agustín is the first resort area you reach when you go south from Gran Canaria airport. It's beaches face south east and the whole resort is within the famous south Gran Canaria bubble of perpetual sunshine. To the north of San Agustín you have the much smaller resort areas of Playa del Aguila and Bahia Feliz. To the south, the area merges into the eastern end of busy Playa del Inglés.
San Agustín's history as a resort is long as the first ever south Gran Canaria hotel opened here in 1965. San Agustín's early years as a resort were rather lively and glamorous but it has since got much quieter. These days, San Agustín is Playa del Inglés' sleepy little neighbour; just how its visitors and residents want it to stay.
[caption id="attachment_8097" align="aligncenter" width="678"]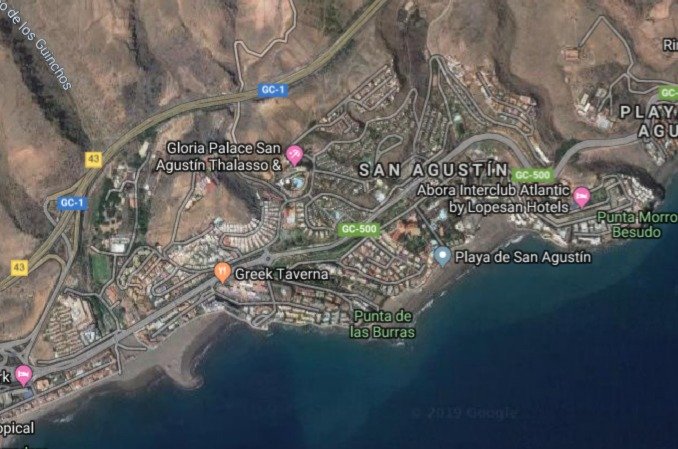 The San Agustín property area in south Gran Canaria[/caption]
Why is San Agustín a Gran Canaria property hotspot
With plenty of green spaces, low rise property, golden beaches and a good range of quality bars and restaurants, San Agustín is a top property spot for anyone looking for peace and quiet in south Gran Canaria.
It's close to Playa del Inglés (a couple of minutes on the bus) but feels very different.
San Agustin is also mostly south-facing and many properties have gardens or sun terraces allowing owners to take advantage of the warm, sunny climate.
What's in San Agustín?
San Agustín is small enough to walk around but big enough to offer all amenities such as supermarkets, restaurants, and medical centres. The main San Agustín shopping centre is full of bars, restaurants and shops. There are quality places to eat dotted throughout the resort and along the coast.
The San Agustín area has long been popular with Swedish visitors and has a Swedish church.
Property in the San Agustín area
Most property in San Agustín faces the sea and is either bungalows or apartments in low-rise buildings. There are also some larger houses or villas.
A one-bedroom property in San Agustín starts at around €160,000. A two-bedroom property starts at €220,000 and a villa or house  at €600,000.
The future of San Agustín
San Agustín has slowly become more and more residential since its resort heyday in the 1960s to 1980s. Many complexes that were originally touristic have become holiday home complexes or even residential zones.
The future of San Agustín looks very much like its recent past; a peaceful mix of tourists, holiday home owners and residents all enjoying the areas charms without any of the stress and bustle of Gran Canaria's major resorts.
San Agustín is unlikely to change because it was developed in a low density way back in the 1960s. There is little space left for any significant building work.
Cárdenas Real Estate in San Agustín
Please feel free to contact us if you have any questions about property in San Agustín, or south Gran Canaria in general.